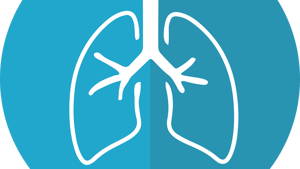 While The Centers for Medicare and Medicaid Services (CMS) is considering expansion of coverage for lung cancer screening, a new study shows the effectiveness of early detection in the reduction of lung cancer deaths. Dr. Raja Flores and his colleagues concluded that between 2006 and 2016, lung cancer deaths decreased by about 4% each year. "This decline has been driven by many factors, including smoking cessation, medical therapies, CT screening, and earlier therapeutic interventions," they reported, and in the conclusion they state that, "our analysis suggests that decreased mortality is also associated with a diagnostic shift from later to earlier stage lung cancer."
This dovetails with the recommendation by the US Preventive Services Task Force (USPSTF) to lower the starting age for screening from age 55 to age 50 and the smoking history from 30 pack years to 20. That recommendation has been adopted by many payers, as we reported, but Medicare has not yet done so. Medicare is considering a change in policy to adopt the two lowered recommendations from USPSTF.

The current Medicare coverage includes an asymptomatic person who is a current smoker or one who has quit smoking within the past 15 years. Coverage is available for eligible persons through age 77. The American College of Radiology (ACR) would like to see the Medicare policy broadened to include coverage through age 80, which is consistent with the USPSTF recommendation, and to remove the 15-year non-smoking limitation. In a position paper, the ACR implores CMS to "simplify eligibility requirements and further promote screening; we urge CMS to remove the 15-year smoking cessation quit date. Patients that meet eligibility criteria should continue screening unless they develop a health problem that substantially limits life expectancy or the ability or willingness to have curative intent lung cancer treatment."
The proposed Medicare policy eases some of the specifications contained in its requirement for a counseling and shared decision-making visit prior to the screening CT by allowing it to be performed by non-physician providers, and to simplify the documentation related to the visit. However, the ACR would like CMS to completely remove the requirement for a counseling and shared decision-making visit. They see these criteria as "an unintended but major barrier to lung cancer screening." Finally, while CMS has proposed to remove the registry reporting criteria for imaging facilities, the USPSTF endorses maintaining the use of the ACR Lung Imaging Reporting and Data System (Lung-RADS) as a quality assurance tool.
A final decision by CMS is expected early in 2022, and we will let you know when that happens. Subscribe to this blog to stay abreast of this and other regulatory issues that will help your practice maximize reimbursement and maintain compliance.
Sandy Coffta is the Vice President of Client Services at Healthcare Administrative Partners.
Congress Responds to Lessen Medicare Cuts For 2022
A Surprising Consequence of The No Surprises Act

Regulatory And Payment Issues That Will Impact Radiology Practices In 2022


Follow HAP on Twitter
Like HAP on Facebook
Copyright © 2021 Healthcare Administrative Partners. All Rights Reserved.