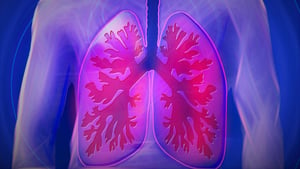 Based on revised recommendations from the US Preventive Services Task Force (USPSTF), the Centers for Medicare and Medicaid Services (CMS) is considering an adjustment to its reimbursement policy for LDCT Lung Cancer Screening. CMS expects to complete its decision-making process before February 2022. In the meantime, many commercial payers have already expanded coverage by adopting the new recommendations.
Current Medicare reimbursement criteria requires that all of the following conditions are met:
Age 55 – 77 years
No signs or symptoms of lung cancer
Either a current smoker or have quit smoking within the last 15 years
Have a tobacco smoking history of at least 30 "pack years"
Screening must be ordered by a physician following a lung cancer screening counseling and shared decision-making visit
Most commercial payers follow the same guidelines with occasional slight differences. The new eligibility criteria recommended by the USPSTF lowers the recommended starting age for screening to 50 years and the smoking history to 20 pack years (an average of one pack of cigarettes per day for 20 years).
In an unusual turn, commercial payers are ahead of Medicare in expanding coverage. We found that the following have already adopted the new guidelines, or are about to do so:
GHI/Emblem
Humana
Healthfirst of NY
Amerigroup/Wellmed
Horizon BCBS of New Jersey
BCBS of Delaware
Horizon NJ Health
United Healthcare (as of September 1, 2021)
Oxford Health Plan (as of September 1, 2021)
This is not an exhaustive list, and others will likely be added especially once Medicare coverage is approved. Commercial coverage guidelines have been changed online at eviCore and AIM Specialty Health.
LDCT Lung Cancer Screening is billed using CPT® 71271, "Computed tomography, thorax, low dose for lung cancer screening, without contrast material(s)", which replaced HCPCS code G0297 as of January 1, 2021. The code G0296, "Counseling visit to discuss need for lung cancer screening using low dose CT scan (LDCT) (service is for eligibility determination and shared decision making)" is still used for the initial counseling and shared decision-making visit required by Medicare.


Medicare will reimburse CPT® 71271 and G0296 when billed with the following ICD-10* diagnosis codes:


For a former smoker,
Z87.891, Personal history of tobacco use/personal history of nicotine dependence
For a current smoker:
F17.210 Nicotine dependence, cigarettes, uncomplicated
F17.211 Nicotine dependence, cigarettes, in remission
F17.213 Nicotine dependence, cigarettes, with withdrawal
F17.218 Nicotine dependence, cigarettes, with other nicotine-induced disorders
F17.219 Nicotine dependence, cigarettes, with unspecified nicotine-induced disorders


The evidence reviewed by the USPSTF shows that "screening can help many more people who are at high risk for lung cancer," says USPSTF member Michael J. Barry, M.D. in a press release. "By screening people who are younger and who have smoked fewer cigarettes, we can save more lives and help people remain healthy longer." Reports indicate that LDCT screening has been underutilized since its coverage was approved in 2015, perhaps due in part to the "shared decision-making process" that the American College of Radiology (ACR) and other interested groups would like to have eliminated in the revised Medicare criteria.


Compliance with recommended follow-up is a problem whether it is related to specific screening or when findings are incidental to other imaging. Radiology Business reports that less than two-thirds of lung cancer screening patients receive timely follow-up care, especially among Black, low-income, or patients with mental health disorders, and the ACR has just issued new recommendations for managing incidental lung findings. HAP's Deep Dive Analytics system has been proven to dramatically increase follow-up compliance not only for lung findings but also for IVC filter removal and other areas such as adrenal, liver, kidney, pancreas, and thyroid profiles.
We will continue to monitor the adoption of this new standard, including actions taken by CMS that affect Medicare coverage. Readers of this blog will be among the first to learn of changes that are important to their radiology practice management and revenue optimization. Subscribe to this blog today for the latest information.


® Current Procedural Terminology (CPT) is a copyrighted code set developed and maintained by the American Medical Association, and CPT is a registered trademark.
* ICD stands for International Classification of Diseases, the system owned and copyrighted by the World Health Organization that is used to report diagnoses when submitting claims for reimbursement of physician services, among many other purposes. ICD-10 is the 10th edition of this coding system. CM stands for the Clinical Modification of the classification system.
Sandy Coffta is the Vice President of Client Services at Healthcare Administrative Partners.
Related Articles


HHS Provider Relief Fund (PRF) Reporting Rules are Released

An Important Deadline for Radiology Practices to Comply with the Medicare AUC/CDS Mandate


Is Independent Radiology Practice in Jeopardy in 2021?