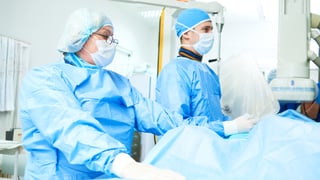 When people are referred by their personal physician to a specialist, they usually see the specialist in his or her office for a consultation. Following the office visit, if the patient and physician deem a procedure to be appropriate, the procedure is scheduled in a facility such as an ambulatory surgicenter or hospital procedure room. Interventional radiologists, on the other hand, most often see their consultation patients at the time of the procedure in the hospital setting where the procedure will be performed, rather than in their own office. Changing this approach can yield benefits for the radiology practice, as well as for the patient.
Use the IR Clinic Model
Interventional Radiologists (IRs) have traditionally worked behind the scenes, often performing procedures based on decisions made by the referring physician rather than participating in treatment option discussions with the patient directly. Developing an "IR Clinic" can help improve the IR's visibility to both patients and the referring physician community, as well as provide the patient with a more satisfying experience.
The IR Clinic can be located either within the hospital or in an outside facility. An office suite located near the IR procedure rooms, with a patient-friendly registration and waiting room, can be used for consultations with prospective patients. This will provide the IRs with a place to establish their identity as consultative physicians, while allowing them to work efficiently to balance procedures with consultations.
If the practice has a diagnostic imaging facility near the hospital, then an alternative could be to establish the IR Clinic within the imaging center. This has the advantage of increasing traffic to the center, which can lead to future imaging procedures and reinforce 'one-stop shopping' for all of the patients' radiology needs. The imaging center is already set up with a patient-friendly environment, and minimal work would be needed to outfit an appropriate consultation space.
In its fullest implementation, the clinic concept can be developed into a freestanding interventional radiology facility complete with procedure rooms. This alternative will be attractive to insurance payers as their cost will be lower than for the same services in a hospital-based facility and patient satisfaction could be greater than going to a hospital facility. With their ability to direct patients, insurance payers can be a powerful partner in developing the IR Clinic. Equipment vendors are also a useful resource in helping set up a freestanding clinic by assessing cost and estimating reimbursement and ROI.
Promote the Practice's IR Capabilities
The IR Clinic can establish a practice identity as a sub-specialty within the diagnostic group. Its website should be designed to attract patients looking for surgical alternatives who will self-refer for IR procedures. At the same time, developing referral relationships with non-procedure based specialties like medical oncology and pediatrics will be welcomed by them because they don't offer competing services.
The IRs should develop a menu of procedures offered by the practice and market these to the appropriate referral sources. For example, an IR practice that performs y-90 radioembolization for liver tumors will want to be sure the oncology community is aware of this capability, especially as an alternative for their patients who are not candidates for surgery. Similarly, OB/GYN practices should understand that uterine fibroid embolization (UFE) is available. Advertising directly to the public should not be overlooked, either. According to a survey reported in an August 2017 auntminnie.com article, the majority of women diagnosed with uterine fibroids were not aware of UFE as an alternative to surgery. Of those surveyed who were aware of UFE, 73% learned of it by word of mouth, through their own research or through advertising.
Outlook for Growth of IR
According to The Advisory Board, there are three trends in healthcare with which IR aligns directly:
the cost of care is lower than for surgical procedures
it is attractive to consumers who shop for healthcare alternatives
it reduces hospital stays by providing services in hospital outpatient departments or in freestanding facilities
The IR Clinic's development plan should address its ability to leverage these trends. As interventional radiology procedures are developed to treat a wider range of conditions, the IR Clinic will become that much busier.
Get the Most Revenue for IR Services
Interventional radiology billing is more complicated than billing for the average diagnostic radiology procedures, and it requires the use of CPT® codes that are not commonly used in other areas of the practices. Achieving maximum reimbursement will require a collaborative effort between the IR physicians and the clinic's coding team. The coders working on the IR clinic's services must have expertise in this area, and the medical record created by the physician has to be detailed enough for them to extract the information they need.
IR practice requires the use of Evaluation and Management (E&M) codes for consultations and office visits. Read our companion article for more information on the proper use of E&M codes in IR practice.
Conclusion
IR can become a more lucrative sub-specialty within the radiology practice by becoming more visible to patients and the referring community. Development of the IR Clinic, whether within the hospital or in a freestanding facility, will enhance both patient and referring physician satisfaction and will be attractive to insurance payers at the same time. While there are billing and documentation considerations to be aware of, proper training of the physicians and coding team will maximize reimbursement for these services.
Our detailed overview of the 2018 coding updates for diagnostic and interventional radiology will be published soon. Subscribe to our free blog now and get it delivered right to your inbox.
Sandy Coffta is the Vice President of Client Services at Heatlhcare Administrative Partners. Her areas of expertise include revenue cycle management, radiology practice billing and coding, and provider reimbursement issues.
Recent Articles
How the 2018 Coding Changes Will Affect Radiology Practices
Coding and Billing Considerations in Interventional Radiology
Radiology Leaders Comment on the Realities of the QPP
5 Things to Consider When Evaluating Your Billing Vendor