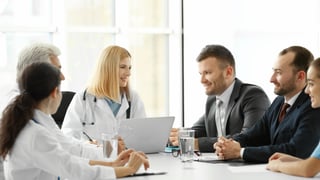 If you currently outsource your revenue cycle management, you know that the performance of your billing company is paramount to your practice's financial success. Reimbursement continues to decline, and the migration to value-based payments from fee for service will continue to jeopardize your practice finances if your revenue cycle partner is not performing.
So what does it take for optimal performance and how do you know if you are getting it? Are you collecting every dollar you can (from the patient and the payers)? One of the biggest issues with a private hospital-based group is the lack of comparison data. What should your yield per-procedure be? When you are comparing your practice reimbursement rates to other groups, are you comparing apples to apples? How about days in AR -- how quickly should you receive your money? How does your payer mix and or bad debt impact those numbers? How soon is too soon to send a patient to collection?
All of these metrics (or KPIs) are important to measure but difficult to apply when analyzing your current outsourced billing company's performance. Thorough evaluation of the 5 critical revenue cycle KPIs below will help you glean the necessary information about your current billing vendor and help you make the decision as to whether you should look at alternatives for your practice.
Charge capture - You can't measure what you can't count. A charge capture audit (done correctly) is a manual process but one that will be worth your time. Go back 120 days from the current date and compare the log of patients from each of your locations with the patients billed. Have you accounted for every procedure for every patient that was registered? In most cases you will find missed procedures. This can be due to an interface issue or an issue with a manual paper process. Tightening up the charge capture process is the 1st step in reducing revenue leakage. If you are completing procedures that never enter the billing system, then you are working for free. Ongoing charge capture spot checking is a good practice to employ and in most cases there is always room for improvement.


Documentation quality - You can't code for what you don't document. A review of your documentation is critical to ensuring that you are coding compliantly and appropriately for services rendered by your physicians. It is also very important to standardize documentation through templates whenever possible. Such standardization can help ensure quality control in your end product, which is the final dictated report. It is important to understand that documentation analysis is not the same as a coding audit. When we talk about documentation review, we are talking about standardization of templates, the reference of appropriate attestations that are a necessary part of compliant dictation. For example: Are you documenting whether or not you reviewed prior scans?


Coding accuracy - Is your current billing company using an auto-coder? Do they use offshore resources? How often do they audit their coders and / or process and how often should you? Once you have documented for physician services rendered at your practice, you need to ensure that the appropriate codes are assigned to allow for maximum reimbursement. Under-coding is just as noncompliant as over-coding. A thorough analysis across modality / locations / payers / physicians is crucial to ensuring that your coding accuracy is sufficient. An acceptable accuracy rate is

97%

. Anything less, and you should be looking for a plan to implement improvement.


Payer contract management - Once you have made sure you have captured your work, documented it correctly, and coded accurately, now you need to make sure you are being paid in line with your negotiated payer-specific fee schedule. Do you have your payer contracts and have you shared them with your vendor? If not, this is a critical step. Your billing company needs to know what you have contracted so they can be sure that you are being reimbursed correctly. What process does your billing company's system use to monitor underpayment? Choose three of your top non-governmental payers and compare the most common CPT contracted rates with reimbursement at the patient-level to understand where any deltas may occur.


Denial management – You should expect roughly 80% of your expected collections will come in every month if your billing company employs a thorough, continually refined operational process. The performance difference is in the additional 20%. A thorough denial management process is crucial to ensuring full and timely reimbursement. How does your vendor mange denials and how do they report on them to you. Can you analyze denials down to the patient and CPT level? Can you easily evaluate denial trends by denial code/reason? Once analyzed, what process improvement does your vendor employ to reduce these denial trends? Denial management is the heart of billing company performance.
Summary
These five critical RCM KPIs are bedrock metrics that will help ensure your practice and your physicians are being properly served by your outsourced billing vendor. Consider these a baseline starting-point. There is more, much more, involved in truly maximizing practice reimbursements and reducing compliance risk in today's changing healthcare economy.
As value-based provider compensation transitions from concept to reality, working with an average billing and coding company, or relying on internal staff to handle these complexities, becomes ever-more challenging. Modern physician practices are partnering with full-service RCM vendors that are experts in areas like MACRA / MIPS and innovating in clinical analytics applications to drive better decision making, improved patient outcomes, and increased practice value. It's time to ask your revenue cycle management company how they stack up in these areas.

Stay tuned for our next articles about evaluating your current revenue cycle management vendor and how to manage the transition if you decide to change your vendor. Subscribe to our blog for more on this series and to receive updates on all of our latest radiology RCM posts.
Rebecca Farrington is the Chief Revenue Officer at Healthcare Administrative Partners.
Latest Blog Articles
Exceptions and Exemptions from MIPS Reporting for 2017: What Radiologists Need to Know
The Coastal Imaging Success Story Part 1: The Transition
It's Not Too Early to Prepare for a MIPS Performance Data Audit