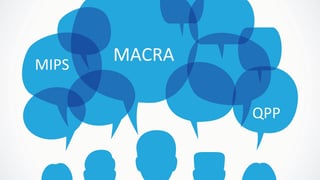 As MACRA heads down the homestretch of its first implementation year, providers across all specialties are assessing the status of their practice and looking for guidance as to what the future holds. Understandably, concern and confusion remain. While most major players involved in healthcare delivery agree with the move to value-based compensation conceptually, the constant evolution of what is now the Quality Payment Program (QPP) has in many ways created more questions than it has answered. Specialty physician practices looking for certainties amidst the complexities should focus on this important factor: value-based payment models, in theory, have bi-partisan support. This is not expected to change despite the continuing ACA debate in Congress. Implementation delays and grace periods may indeed make it into ongoing legislation. However, proactive physician practices are realizing that the wait-and-see era is over. Maximizing reimbursements in the QPP in the years to come requires planning and implementing a compliance program right now.
At HAP, we partner with many of the most-respected radiology practices in the country -- leaders in their field, in helping to assess and shape the impact of the QPP on this specialty. Dr. Greg Nicola, Vice President of Hackensack Radiology Group, is one of those thought-leaders. He and his colleagues share their insights on the key elements of the QPP and its impact on radiologists, both now and into the future, in this podcast from the JACR Radiology Firing Line.
Listen to the full podcast here.
We've been helping our radiology practice clients understand the nuances of the QPP and supporting their compliance efforts since the early evolution of this program. Here are some key points to consider from this podcast:
The Future of the FFS Model in Radiology - As MACRA continues to move the US Healthcare system from a fee for service (FFS) to a value-based payment model, Dr. Nicola points out that the system is still foundationally fee for service. CMS initially created disparate quality programs (EHR MU, PQRS and VBM) that sit on top of the FFS model with the goal to incentivize clinicians to improve quality and cost of care through measures and activities tied to Medicare payment adjustments. MACRA has improved this model to some degree through its Quality Payment Program (QPP) by aligning and refining quality and cost initiatives under a single umbrella, but the overall FFS foundation still exists.


Important Nuance of Non-Patient Facing Clinician Status - There has been much consternation among radiologists regarding their label as "non-patient facing clinicians" in the MACRA world. Dr. Nicola explains that the term "non-patient facing" is really a statutory term to identify those physicians who CMS has exempted from the ACI (previously EHR Meaningful Use program) category of the Merit Based Incentive Payment Program (MIPS). Patient-facing clinicians are those designated as required to use EHRs to document interactions and communicate with patients and other physicians. Yet the non-patient facing designation is really a misnomer relative to actual interactions and communications between radiologists and patients. Dr. Nicola believes that meaningful measures development that supports radiologists' use of technology to engage patients and referring physicians could put the ACI category back in play for many radiology practices.


Care as a Component of Costs - The cost measurement category of MIPS has been the source of much concern or confusion for radiologists since current cost measures either never apply to, or do not allow for cost control by radiology practices. CMS has formed clinical committees tasked with creating "care episodes" as an additional way to measure costs. These "bundles," which will include services performed by radiologists, will allow for procedures to be benchmarked and costs compared across physicians and practices. Dr. Nicola indicated that the committee currently has a large number of care episodes in development and believes that this is a huge improvement and terrific addition to the cost category.


Outcome-Based Focus for the Future - Dr. Nicola discusses what improvements should be made to MACRA and if the program should have been developed differently. He points out that, although healthcare is extremely politicized, there are some tenets that most everyone agrees upon: everyone wants to pay for value, not just services, wants reductions in cost and administrative burdens. Yet there is still no real understanding as to how to achieve such goals. A huge positive development, however, is the industry focus on outcome-based measure development to support value-based care. Many radiologists are already proving their value in this area through use of standard templates to document imaging that result in actionable data needed to measure outcomes. Says Dr. Nicola, "As we move to structured reporting, structured lexicon and structured ways to grade things…you now have cleaner data to start judging outcomes and that's where the game is." His stated examples of such are imaging reporting of breast BI-RADS® and LUNG-RADS® needed to identify if patients are improving, worsening or stable as a way to improve patient care outcomes.
The Opportunity for Radiology Within the QPP

Dr. Nicola puts a fine point on his discussion of MACRA by emphasizing that while Quality Payment Program currently supports mostly "poor surrogates for measuring quality" through process type (i.e., check the box) metrics measures, there is a strong push in the healthcare community to support outcome-based measures and cost bundles that will positively impact both quality and cost of care. Radiologists have a huge opportunity to communicate and show the value they bring and act as thought leaders in the development of these healthcare practices.
Our mission here at HAP is to help every radiology practice succeed despite the complexities of the healthcare economy. We are proud to sponsor the JACR Firing Line podcast and support the educational initiatives of national and regional radiology trade associations.
Listen to the full podcast here.
Related Articles:
It's Not Too Early to Prepare for a MIPS Performance Data Audit
Exceptions and Exemptions from MIPS Reporting for 2017: What Radiologists Need to Know
Exempt from MIPS? Think Again About Participating as a Group