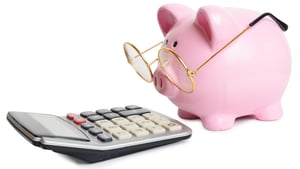 You should evaluate your practice's revenue cycle management method at least annually, whether you have an outsourced RCM vendor or if your billing and collection is done in-house.
While most practices routinely monitor their billing and collection performance statistics (Key Productivity Indicators, or KPIs) such as accounts receivable aging, days of charges outstanding, and net collection ratio, there are other metrics to consider as well. In an earlier article we outlined the 5 Critical Revenue Cycle KPIs – Charge Capture, Documentation Quality, Coding Accuracy, Payer Contract Management and Denial Management. How does your practice stand up to these measures? Here are some other factors to consider:
Cost
One of the first areas to examine is cost. With an outsourced vendor, it's easy to analyze your fees. With an in-house department, a lot more has to go into the calculation. Consider the cost of the following items:
billing office payroll, including staff for claims submission, payment posting, insurance follow-up, call center and credentialing;
all associated taxes and employee benefits;
the rent for the office space, or the cost of owning and maintaining an office building;
furniture and equipment for the staff;
utilities (electric, water, etc.) for the billing office;
property and liability insurance, including employment practices liability and cyber liability;
supplies such as pens, paper, etc.;
the computer processing system – hardware (including servers and networking), software, upgrades, maintenance, IT support;
ongoing training for coders and management;
management of the entire billing and collections operation
If your practice is fortunate enough to be able to identify these costs separately from other practice expenses, add them all up and divide the total by the amount of revenue collected over the same period. This is the percentage cost of in-house collections. How does it compare with quotes from outside vendors?
Scalability
As your practice expands to new locations and adds more physicians, the revenue cycle operation must increase as well. An in-house department must add capacity in steps – hiring a full person when only a partial FTE is needed and adding a full workstation for that additional person. When the RCM function is outsourced, your practice does not need to consider bench strength or additional human resources.
Knowledge base
As dedicated as your billing and collections staff are, they are working in an isolated environment within a single practice. In order to keep abreast of trends and changes in revenue cycle, your employees have to take advantage of educational opportunities outside your practice. Reimbursement challenges continue to evolve, and continuing education is no longer a luxury but a necessity.
Coding expertise and portal functionality
Maintaining a staff of certified coders who are up-to-date on the latest CPT®[i] and ICD[ii] education can be a challenge. Compliant documentation and coding are the most labor-intensive part of the revenue cycle process. Sharing real-time documentation inefficiencies with your clinicians is a necessary step to achieve compliant coding.
Other benefits
There may be other benefits an outsourced RCM vendor can offer that might not be available from your in-house department. For example,
they can design an efficient interface to optimize your hospital charge capture that will avoid manual entry and provide an auditable tracking system to assure that all charges have been obtained.


a patient portal might not be available through your in-house system, or it might be an added cost, but an RCM vendor can offer this feature economically to their clients.


hardware and software maintenance and upgrades are handled behind the scenes. You don't experience the cost, downtime, or learning curve and you gain value from system enhancements.
Conclusion
Take the time to review the KPIs mentioned above, and review the questions we posed in these earlier articles (Part One and Part Two). Try to objectively evaluate your in-house department, or your current RCM vendor, and decide if it's time for a change. We'll review how to manage the transition from in-house to outsourced in an upcoming article. Subscribe to this blog so you don't miss it!
Rebecca Farrington is the Chief Revenue Officer at Healthcare Administrative Partners.
Recent Articles
Understanding The Valuation Changes In The Final Medicare Fee Schedule For 2019
Researchers Asked for A Follow-Up System, And We've Got It
Medicare's AUC/CDS Mandate Will Begin Next Year


[1] CPT® stands for Current Procedural Terminology and is a registered trademark of the American Medical Association.
[2] ICD stands for International Classification of Diseases, a system established by the World Health Organization.