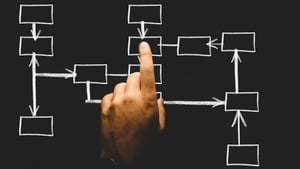 A recent study aimed at calculating follow-up recommendations in radiology reports and comparing the efficacy of various methods to identify patients in need of follow-up suggests the usefulness of technologies that can take action on those recommendations. The study that was conducted by Dr. Emmanuel Carrodeguas and his colleagues, published on December 29, 2018 in the Journal of the American College of Radiology and reported by AuntMinnie.com, concludes in part that "Automatic identification of follow-up recommendations could have wide implications for establishing and timely performance of collaboratively developed follow-up care plans for actionable findings in radiology reports to improve quality and experience of care for patients."
The vision expressed in the Carrodeguas study is this:


"Our study opens the possibility to use automatically extracted follow-up recommendations in clinical practice. Automated systems integrated in an electronic health record facilitate coordination among various providers regarding the creation of collaborative care plans. For reports containing further recommendations, a notification system may be developed that can monitor and inform providers so that necessary diagnostic follow-up is not delayed."
Healthcare Administrative Partners (HAP) has been offering just such a service to our clients over the past year or so. Developed in conjunction with Dr. Philip Lim of the Radiology Group of Abington, Pennsylvania, Deep Dive Analytics (DDA) addresses precisely the notification system to "monitor and inform providers" that was suggested by the researchers.
Our system uses Natural Language Program (NLP) techniques to mine radiology clinical data, identifies patients in need of follow-up evaluation, executes notification letters to patients and primary care physicians, and monitors subsequent patient response. The development and success of our program to improve the quality of care with lung nodule tracking and IVC filter removal was chronicled on our blog in March, 2018.
To accurately track appropriate follow-up of lung nodule findings, we had to confirm that subsequent studies were in fact related to initial findings. This ensured that a patient who is notified for follow-up had not already returned for testing. We reported that our lung nodule program had compliance with follow-up that reached an average of 60% within that cohort, as compared with the typical 29% compliance rate reported in a 2013 study.
Additionally, the DDA was modified to assure compliance with IVC filter removal. The system tracks current filter placements and takes action to encourage timely removal by scanning a practice's data to identify patients with retrievable IVC filters that have been in place for longer than the recommended time, usually no more than 60 days.
The passage of the "Patient Test Result Information Act" in Pennsylvania prompted a new application for our program, and we had the required notification compliance up and running for our clients within the 60-day window provided in the law. This application highlights one of the key features of our system, which is the ability to provide appropriate notification to the patient and/or his or her primary care physician.
The ability of the radiology practice to provide care for mutual patients collaboratively with other physicians is exactly what Dr. Carrodeguas and his colleagues envisioned, and it fits with their prediction that such a system would have applicability to meet federal quality improvement goals:
"In addition, a system that could automatically monitor disease- and finding-specific (e.g., pancreatic cysts) follow-up recommendations could enable quality improvement activities or potential future federal regulatory requirements envisioned as part of the CMS Merit-Based Incentive Payment System measures."
We have expanded the range of our DDA offering in recent months to include support for our radiology partners' quality improvement initiatives. For example, the Dictation Summary Report produced by our system analyzed findings (comprised of 331,000 radiology reports from 157 radiologists in 5 different practices) to show that 10-11% contain follow-up recommendations. This mirrors the results of 10-12% reported in the Carrodeguas study of 1,000 reports. The DDA further drills into the details of these recommendations, telling us that 43% are potential "incidentaloma", 1% are Lung-RADS® dictated, and 56% are breast-related (89% mammograms, 11% other breast-related).
We are proud and gratified that this important research validates the clinical analytics program we have offered to our clients over the past year. No doubt there will be more applications identified and implemented as time goes on. Subscribe to this blog for the most recent updates.
Sharon Taylor is the Chief Clinical Informatics Officer at Healthcare Administrative Partners.
Related Articles
Medicare's AUC/CDS Mandate Will Begin Next Year
The New Patient Refund and the Changing Landscape of Customer Satisfaction Trends in Healthcare
Coding Changes That Will Impact Radiology Practices In 2019