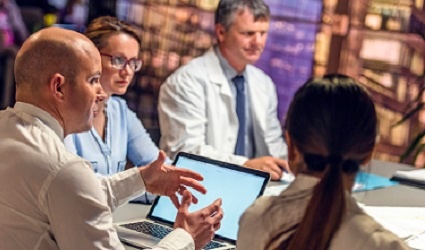 When a major hospital-based radiology practice realized that their outpatient volume had dropped suddenly, their Revenue Cycle Management (RCM) company stepped up to quickly diagnose the problem. Using their analytic database, they produced a focused referring doctor report that revealed significant outpatient service volume declines concentrated among a handful of providers, one of which had decreased by 60%. It's this kind of responsiveness that sets a true RCM partner apart from the average vendor.
Once known simply as "billing companies," revenue cycle management vendors must now provide a wider range of services to meet the changing needs of radiology physician practices, particularly in this complex healthcare economy where proving value is becoming paramount. Here are the critical questions to ask when evaluating a professional services RCM vendor for your radiology practice:
Charge Capture – can they guarantee 100% charge capture, assuring you that every service performed by your physicians will be billed?
Credentialing – does the vendor set up credentialing with new payers and maintain annual credentialing with all payers?
Data transfer – will the vendor work with your hospital or radiology information system (RIS) to extract the data needed for billing? How much experience do they have successfully interfacing with vendor systems?
Coding – is their coding staff certified, trained in the specifics of radiology coding, and dedicated to your account?
Documentation - how do they handle your coding questions and documentation issues? Do they help to educate physicians on improving documentation in order to obtain appropriate reimbursement?
Claims – what is the vendor's turn-around time for sending claims once they have the data? Will they report this metric to you regularly?
Call Center – do they have an adequately staffed call center to handle your patients' questions in a timely and professional manner?
Accounts Receivable Monitoring – how are claims and payments handled once they have been submitted? What is the process for follow-up of unpaid or slowly paid claims?
Denials Management – does the vendor work denials aggressively to prevent revenue loss and payment delays? Is this critical information reported back to the practice for process improvement?
Data Analysis and Trending – does the RCM vendor representative work with the practice on a regular basis to review the data and identify areas that might need management attention? Is their system sophisticated enough to provide ad hoc or dashboard reporting?
Support for MIPS Measures Reporting – do they provide the coding expertise and analytics needed to enable your practice to successfully report the critical MIPS measures of quality and clinical practice improvement activities?
Diagnostic radiology billing has traditionally been fairly straightforward; however, with continued procedure coding changes, bundling, and the advent of ICD-10 diagnosis coding, it is imperative that all claims go through review or edit processing for accuracy. Practices that perform interventional radiology procedures have an even greater need for coding assistance as the potential penalties for repetitive improper billing, especially to Medicare, is a risk too big for any practice to take.
Experienced RCM companies use sophisticated coding software to evaluate claims before they are submitted, identifying potential problems for human coders to correct. An efficient method for coders to communicate with physicians, such as a physician claims review portal, is a tremendous aid in sending out accurate claims in a timely manner.
In today's complex healthcare economy, having good data is the key to successful practice management. When the RCM vendor's financial success is aligned with that of the radiology group's, it creates a win-win situation because both parties benefit from achieving the maximum reimbursement. But not all RCM vendors are willing to put forth the effort required to maximize this type of relationship.
Let's now return to the story of our hospital-based radiology practice that experienced a significant drop in their outpatient volumes… Upon further examination, the practice leaders found that most of their volume shift was coming from the loss of patients covered through a major local insurance company whose contract with their hospital (and thus the practice) included very high patient out-of-pocket costs. The patients were going elsewhere for less costly radiology services. The RCM vendor and the practice together prepared a report and presented it to the hospital system's management to prove that both the hospital and the practice were losing significant revenue and forcing patients away from them. Armed with this data, the hospital system negotiated a more favorable tier designation with the insurance company, allowing for decreased patient out of pocket costs and ultimately recovering a revenue stream that was thought to be lost.
This is a true story! The Affordable Care Act (ACA) and Health Savings Accounts (HSA) have created high deductible insurance plans that are making patients more aware of their healthcare costs. Radiology practices must constantly be aware of the types of shifting volume patterns such as our example practice noticed. Healthcare consumerism is also creating collections concerns, and your RCM vendor has to have the tools, technology and processes, as well as expertise in the field of radiology to be able to collect the full amount of reimbursement to which your practice is entitled.
If your current RCM vendor can't provide this level of service, or if your in-house billing team doesn't have the data or skills to perform this kind of analysis, its time to evaluate alternatives. Choosing the right RCM vendor is not a simple task. Watch our blog for future articles that will provide you with the information you need to successfully evaluate potential RCM vendors and make the best choice for your practice. Subscribe now to receive the latest articles as soon as they are published.