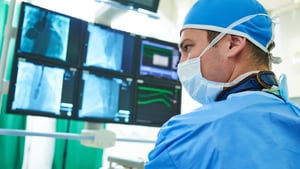 Interventional radiology is among those specialties hit hard by the clinical labor practice expense cuts in the 2022 Medicare Physician Fee Schedule (MPFS). The proposed Physician Fee Schedule for 2022 contained an estimated 9% cut to interventional radiology (IR), due primarily to the revision of the practice expense component of the RVU calculation. The MPFS final rule brought the IR cut down to an estimated 5% after reconsideration of some of the methodology employed in calculating clinical labor costs. However, this is a blended figure that ignores the much larger effect on the global reimbursement for office procedures than on the professional component for hospital-based procedures.
According to the Society of Interventional Radiology (SIR) analysis of the final rule, "CMS has finalized the adoption of a 4-year phase-in which aligns with other policy adjustments made by CMS to RVUs. The clinical labor adjustment when split over four years still negatively impacts interventional radiology services, but to a lesser impact each year." Obviously, whatever the negative impact is for 2022 will become multiplied over the next 4 years of the phase-in. The SIR explains that clinical labor costs in IR are lower than the average share of direct costs, which causes a decrease in payment as compared with other specialties where labor costs are higher than the average.
IR's practicing in the hospital will not feel the full effect of these reimbursement cuts because the Practice Expense (PE) component of the RVU that contains clinical labor is not included in their professional component reimbursement. For example, Endovenous RF Ablation (CPT 36475) that is performed quite often in an office-based vein clinic was cut by 12.33% for 2022, as compared with a cut of only 0.82% for the professional component. Another common IR procedure, Uterine Fibroid Embolization (UFE) (CPT code 37243), was cut by 6.16% in the office but only 0.70% in the hospital.
The SIR also points out that there will be unintended consequences of the cuts that disproportionately target IR services. In their analysis of the 2022 MPFS Proposed Rule, they report that "IR practices will negatively impact and disincentivize providers from opening office-based labs in disadvantaged communities." That analysis of certain procedures was included in a February 8, 2022, letter signed by over sixty members of Congress urging reconsideration of the planned cuts that will disproportionately impact minority patients. When fully implemented over the 4-year phase-in, the cuts to office-based reimbursement were estimated to be 18-23% for:
Venous Ulcer/Endovenous RF Ablation
ERSD/Dialysis Vascular Access
Peripheral Artery Disease/Revascularization
Fibroid/Uterine Fibroid Embolization
Radiologists are encouraged to reach out to the SIR and the American College of Radiology (ACR) to lend advocacy support as needed. We will continue to monitor this and report on any progress. Subscribe to this blog to stay on top of the latest developments.
Sandy Coffta is the Vice President of Client Services at Healthcare Administrative Partners.
Coverage is Expanded for Lung Cancer Screening Using LDCT
Practical Implications of the No Surprises Act for Radiology Practices

Coding Changes That Will Impact Radiology Practices In 2022
Follow HAP on Twitter
Like HAP on Facebook
Copyright © 2022 Healthcare Administrative Partners. All Rights Reserved.