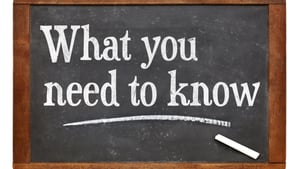 In September, we published the article Out-of-Network Balance Billing Laws Are Important for Radiologists to Be Aware Of about the New Jersey law that states patients receiving emergency or urgently needed services will not be required to pay any more than the deductible, copayment or coinsurance they would normally pay whether the hospital and/or its physicians are in-network or out-of-network with the patient's insurance plan. Here are some more pieces of information we think you should know:
The New Jersey Assembly Bill 2039 -The Out-of-Network Consumer Protection, Transparency, Cost Containment & Accountability Act went into effect on August 29th, 2018.
The bill essentially does 3 things
It limits your ability to bill patients in excess of their required co-pay and deductible in situations where the patient had no real choice in using a certain provider. These situations are emergencies and "inadvertent use" (when the Hospital is a Plan Participating Provider and the physician providing the service (Radiologist, Pathologist or other specialist working in an Inpatient setting).


Requires the physician or physicians practice to make readily available detailed information on the charges for subscribers of plans in which the physician is non-par with. This charge transparency is intended to aid the patient in reaching an informed decision when electing to have services at a hospital or service center.


The patient will essentially receive an in network rate regardless of the physicians participation status in either emergent or urgent care situations.
Next steps for physician practices
Be in contact with the hospital financial office for a complete current list of their participatory health plans to compare to your personal participation list. (This may be a good time to reconsider your participation decisions.)


Make decisions on how to make charge information available. Prospective patients must be given information prior to scheduling. Patients may be directed to the practice web site if carrier participation status as well as procedure pricing information is listed there, or provide a call in number. The hospital scheduling department will need to know this as well.
It is important to note that the regulations apply only to New Jersey state regulated Insurers, and therefore the following plans are not covered by the Act: Medicaid, Medicare (including Medicare Advantage), Accident only plans, Disability Plans, Long-Term Care, Tricare, WC/Auto, Personal Injury Protection (PIP), Dental Insurance, Hospital Confinement Indemnity, Employer Funded Plans, Out of State Plans (even if the patient is a NJ resident).
These federally regulated plans that are excluded comprise roughly 70% of the covered lives in New Jersey.
Impacts of the Act outside of a hospital setting
Prior to scheduling a non-emergent or elective service for a patient that has a health insurance plan that is a fully insured, New Jersey-issued plan and the physician is out-of-network with that plan, the patient must be notified either in writing or through the internet as follows:
The Imaging Center/Physician is out-of-network with their health insurance plan.
The amount or estimated amount that will be billed for the service.
The CPT code(s) associated with that service.
The patient will have a financial responsibility greater than the copayment, deductible or coinsurance.
The patient may also be responsible for any costs greater than the amount allowed by the Health benefits plan.
The patient should contact the carrier for more information about the costs for the services.
These above bullets are recommended for inclusion on an acknowledgement/waiver statement that will need to be signed by the patient. Please see here for more information and recommended preparation steps for implementation guidelines to the New Jersey Out-of-Network Act. For current legislative initiatives on patient balance billing protections, please continue to check the American College of Radiology (ACR) website for their state by state updates.
Conclusion
According to a study by the University of Chicago, almost 60% of all healthcare consumers are surprised by the patient responsibility amount on their medical bills, and 20% of those surprised bills were due to a doctor not being in their health plan's network. Laws like this are designed to protect patients and attempt to limit the frequency of those unexpected high out-of-pocket medical expenses. Radiologists, pathologists and other specialty physicians need to stay informed with the laws in the state where they deliver services.
Accurate billing while adhering to state-specific regulations will lead to greater levels of patient satisfaction and, consequently, will lead to greater levels of both patient retention and patient referrals. Subscribe to our blog for more articles like this one and check out our new patient experience site here.
The information provided in these materials should not be relied upon or regarded as legal advice. Physicians and physician practices alike are encouraged to contact their personal legal advisor.
Recent Articles
Out-of-Network Balance Billing Laws Are Important for Radiologists to Be Aware Of
A Review of the ACR's Comments On The Medicare Physician Fee Schedule Proposed Rule For 2019
New Study Supports the Value Of IVC Filter Tracking Systems