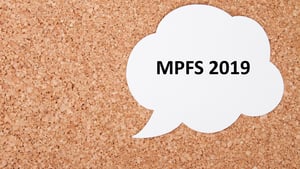 The American College of Radiology (ACR) does a very thorough job of reviewing and commenting on proposed federal legislation such as the annual changes to the Medicare Physician Fee Schedule (MPFS). Their 59-page letter of September 10, 2019 to Seema Verma, Administrator 
of the Centers for Medicare & Medicaid Services (CMS), is available on the ACR website for radiologists to review in detail.
The 2019 MPFS combines the rulemaking for Medicare Payment Policies with the rule making for the Quality Payment Program (QPP), and the ACR's comments are about equally divided between the two – 26 pages are related to payment policies while 29 pages are related to the QPP. In previous years two separate rules were issued.
MPFS Payment Provisions
The topics addressed in the letter's Payment Provisions section include:
Appropriate Use Criteria (AUC) for Advanced Diagnostic Imaging Services (ADIS) 

Determination of Practice Expense (PE) Relative Value Units (RVUs) 

Standardization of Clinical Labor Tasks 

Potentially Misvalued Services 

Valuation of Specific Codes 

Radiologist Assistants (RA) 

Evaluation and Management (E/M) Visits 

Modernizing Medicare Physician Payment by Recognizing Communication Technology- 
Based Services 

Request for Information on Price Transparency: Improving Beneficiary Access to 
Provider and Supplier Charge Information
Updates to Prices for Existing Direct PE Inputs (DPEI) 

Breast Biopsy software (EQ370) 

Provider and Supplier Charge Information
With regard to the AUC proposals, the ACR is generally supportive of the CMS plans to implement this mandate. They ask for clarification from CMS about the "education and testing period" of 2020 in which no penalties will be assessed to the radiologist for incorrect reporting, but whether failure of the ordering physician to consult AUC would cause a penalty to be assessed. The ACR also makes suggestions related to the development of a unique consultation identifier (UCI) rather than the currently-proposed G-code/modifier system, and for communication of relevant information that the radiologist will need for proper reporting of the consultation.
The ACR adamantly opposes, however, the proposed changes that would modify the requirements for documentation of Evaluation and Management (E/M) visits while collapsing the payment levels from 5 to 2 possible codes. They feel that the proposed multiple procedure payment reduction (MPPR) is also unnecessary. The letter states that, "The ACR opposes the implementation of this proposal because it could hurt physicians and other health care professionals in specialties that treat the sickest patients, ultimately jeopardizing patients' access to care. We also urge that the new multiple service payment reduction policy in the proposed rule not be adopted as the issue of multiple services including E/M services on the same day of service was factored into prior valuations of the affected codes."
The proposed Medicare rule for 2019 includes a change that would allow radiologist assistants (RA) to provide care with only "direct" supervision by the physician, rather than "personal" supervision, a change that the ACR supports. This change would not affect procedures currently requiring a "general" level of supervision, however. The ACR makes a recommendation that CMS adopt a new supervision indicator code for direct supervision.
As noted in our recent article How the Proposed Medicare Fee Schedule Changes will Impact Radiology Practices, the proposed 2019 reimbursement for insertion of PICC lines would be reduced by about 60% in some cases. In their review of Potentially Misvalued Services, the ACR explains in detail why it disagrees with the CMS methodology for revaluing these interventional procedures. They also take exception to many other interventional and diagnostic radiology valuation changes proposed for 2019.
Finally, while supporting the CMS Request for Information on Price Transparency, the ACR disagrees that the issue of "surprise bills" should be a concern of CMS, stating that they "are not a Medicare problem but rather a concept involving private insurance and, as a result, is best regulated by state legislatures." See our recent article on Out-of-Network Balance Billing Laws for more on this topic.
MPFS Quality Payment Program
The topics addressed in the letter's Quality Payment Program section include:
Small Practice Bonus 

Identifying Merit-Based Incentive Payment System (MIPS) Eligible Clinicians (EC)
MIPS Determination Period 

Facility-Based Measurement 

Performance Period 

MIPS: Quality Performance Category 

MIPS: Improvement Activity (IA) Performance Category 

Final Score Methodology 

MIPS: Qualified Clinical Data Registry (QCDR) 

MIPS: Promoting Interoperability Performance Category 

MIPS: Cost Performance Category 

Advanced Alternative Payment Models (APMs) 

The ACR's Advocacy In Action newsletter of September 15, 2018 summarizes much of what is contained in their letter to CMS about the QPP proposals:
"The College supported maintaining the small practice bonus, which will change from five points added to the final score to three points added to the quality category score. It backed the proposal to consolidate the determination periods for low-volume threshold, non-patient facing status, small practice status, and hospital-based and ASC-based determinations into the same 24-month assessment period. The ACR also supported maintaining the data completeness requirement for quality measures at 60 percent while also maintaining bonus points for submitting additional high priority quality measures.
The ACR opposed proposed QPP rules changes that would remove two MIPS quality measures: #359, "Utilization of a Standardized Nomenclature for CT Imaging Description," and #363, "Search for Prior CT Studies through a Secure, Authorized, Media-Free, Shared Archive." The ACR also opposed CMS's proposal for designating measures with a performance rate of >98% as "extremely topped out" and proposing them for removal in the next program year rather than allowing the standard 3-year topped out measure life cycle."
The MIPS Cost Performance Category will be considered when calculating the Final Score for the first time in 2018, and this is an area of concern to many radiologists because it is new to them. Radiologists have had the opportunity to review their MIPS Performance Reports for 2017 along with their 2016 Quality and Resource Use Reports (QRUR) to become familiar with the mechanisms that will be used to assign a Cost score in 2018. However, the ACR would like to see "more detailed patient-level reports made available for episode-based cost measures and for [Medicare Spending per Beneficiary] MSPB, and total per capita cost (TPCC) measures."
For episode-based Cost measures in 2019, CMS has proposed that the threshold for attribution of patients to physicians would be lowered from a minimum of 20 cases to a minimum of 10 cases. The ACR is concerned that "lowering the case minimum to 10 in effort to maximize inclusivity would meaningfully sacrifice the reliability of episode-based cost measures. In order to maximize reliability and consistency the ACR recommends a case minimum of 35 across all cost measures."
Conclusion
As CMS decides which elements of the proposed rule will be included or modified, they typically address and publish comments from professional organizations such as the American College of Radiology, including any rationale for adopting changes or not. The final rule will be issued in November, and at that time we will bring you up to date on the results of this process so that you can prepare your practice for 2019. Subscribe to our blog for the latest news.
Richard Morris is the Director of Value-Based Strategy at Healthcare Administrative Partners.
Related Articles
Out-of-Network Balance Billing Laws Are Important for Radiologists to Be Aware Of
How the Proposed Medicare Fee Schedule Changes Will Impact Radiology Practices
How Can Your Radiology Practice Maximize Its MIPS Score?