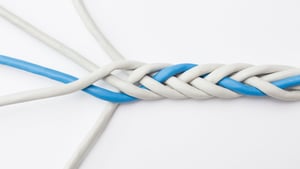 We are clearly in an era marked by the consolidation of healthcare services into fewer but larger providers, involving not only hospital systems but physician groups as well. Radiology practices are not immune to this trend. The study Radiology Practice Consolidation: Fewer but Bigger Groups Over Time published in April by the Journal of the American College of Radiology shows that practices consisting of 100 or more radiologists grew significantly between 2014 and 2018, while practices of fewer than 100 radiologists declined. There are many reasons local practices feel the need to become larger, but at the same time there is usually a lot of trepidation among the physicians about joining with another organization. Before jumping on the merger bandwagon, be sure you've considered the ways you can achieve your goals while remaining independent.
The reasons often cited for the need to merge can generally be reduced down to economics, quality improvement and practice governance, including:
the downward pressure on reimbursement rates and the limited ability of a local practice to negotiate more favorable rates with payers;


the addition of sub-specialty expertise;


a lack of partner physicians who can provide the practice with management oversight;


the need to implement quality improvement programs such as those mandated by MACRA/MIPS or possibly by other payers;


capital for expansion or upgrade of services and equipment;


capital and expertise for development and maintenance of IT infrastructure;


the need for senior physicians to have an exit strategy that might not exist in their current setting.
Look to existing relationships
The first step toward remaining independent is to assess the practice's relationship with the hospitals it serves. Building strong bonds with the hospital will benefit both organizations and can help solve many of the perceived hurdles the group faces. Be sure to maximize your participation in the hospital's Physician-Hospital Organization (PHO) to take advantage of favorable contract rates that may be available. But a strong relationship with the hospital's administration can also include working together in payer negotiations in a way that provides all parties with a win. Bundling services that include radiology, but at a higher overall rate that the hospital system might be able to negotiate, can provide a larger pot for the two entities to share proportionally.
Bring in some outside help
Many of the perceived challenges facing the practice can be resolved by the judicious use of outside support, which allows the group to maintain its independence and control yet achieve its goals. For example, sub-specialty expertise can easily be arranged through the use of teleradiology services without the burden of hiring a new physician who might not be needed full-time, or where the addition of a new partner-track physician is not right for the group. With the right teleradiology relationship for sub-specialty expertise, the group will not be in fear of losing its connection with the hospital and referring physician community; in fact, the addition of such services will strengthen the group's position with its local colleagues who will appreciate what the group has done to improve the quality of care.
Similarly, practice management can be delegated to experienced practice managers on a contractual basis. As with the sub-specialists, the group will be able to maintain its control over the practice while obtaining the expertise needed to see that its operations are handled efficiently and professionally. Management services can range from specific areas such as revenue cycle management, human resources management, IT management, or even MACRA/MIPS quality improvement programs to full imaging center management. Often the practice has capable staff already in place who only need some overall guidance on policy and procedure, or perhaps they need assistance in the area of financial management that in-house supervisors often lack. The addition of outside help in these areas will allow the physicians responsible for practice management to focus on their own professional skills with only periodic management meetings to be assured that the business is being handled responsibly.
Capital is available
Capital for upgrades, expansion or infrastructure is generally available through financing. While taking on debt is anathema to many physicians, when done for specific purposes it makes a lot of sense. For example, financing the cost of a new CT scanner is a no-brainer even though taking on a few hundred thousand dollars of debt might be scary. Assuming the scanner will be well utilized (and why buy it if it won't be?) the revenue stream will cover the equipment purchase over its useful life while still adding additional net revenue to the practice.
The benefit of assuming debt for such things as IT upgrades is less easy to see, but when structured over a reasonable period the cost becomes absorbed as part of the regular budget. Building infrastructure in a step-wise fashion over a few years also will help to spread this cost so it does not negatively impact the physicians. Vendor financing can be extremely attractive for equipment purchases, or as physicians have always been desirable bank customers the group should consider this alternative source of favorable financing for its projects. Approval for the financing of expansion projects that are not simply equipment financing will be aided by the development of a simple but thoughtful business plan.
Patient satisfaction
The successful practice has presumably earned its success and reputation by providing good service to its referring physicians and patient population. Patient satisfaction is a highly desirable quality that is sought after by hospitals and payers. Quantifying patient satisfaction is essential to moving ahead with any practice improvement program. Even if the ultimate decision is to merge with another entity, high patient satisfaction scores will add value to the practice.
Conclusion
When evaluating whether to merge or to remain independent, consider the question of what will be gained by merging over what can be achieved by the practice independently. In some instances, however, the group will have no alternative to merging. This could be the result of hospital systems merging and directing their respective radiology practices to consolidate, or where the practice has no exit plan for a senior physician and sale of the practice is the only option.
Even if remaining independent cannot be avoided, the improvements made by the practice will enhance its value and marketability. Building and maintaining a strong relationship with the hospital and its PHO is a key step in the process, regardless of the final decision to merge or not. Bringing in outside management can help the group achieve many of its immediate goals, and often those consultants are able to achieve significant cost savings that will help offset their own cost.
Rebecca Farrington is the Chief Revenue Officer at Healthcare Administrative Partners.
Related Articles:
CMS Releases a New Resource on the MIPS Cost Category
Update on Interventional Radiology Coding and Billing
How Radiologists Can Avoid Penalties Under the Medicare CDS/AUC Mandate