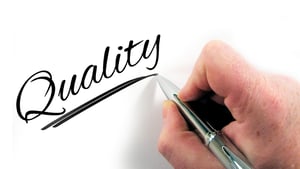 Participation in the Quality Payment Program (QPP) means that you always have several years' information in play at one time. The score you earned from submitting 2018 data will now be impacting your Medicare reimbursement in 2020; you have just completed your 2019 performance and it's time to submit your data; and finally, you now have to begin your 2020 performance year.
2018 Performance Results
The Centers for Medicare and Medicaid Services (CMS) announced that participating providers who attained the Exceptional Performance Adjustment for their 2018 MIPS score will receive an extra 1.68% in their 2020 Medicare reimbursement. Exceptional Performance means a score of 70 or more points, and 84% of all participants achieved this level. Since relatively few participants will be subject to a fee schedule reduction of 5%, that leaves a very small pool of money available (due to the zero-sum rules) for the vast majority of participants who earned a positive adjustment. A minimum score of only 15 points was needed to avoid a negative adjustment in 2018, but as time goes on that threshold will be raised. Those who achieved more than 15 points but less than 70 points will receive a positive reimbursement adjustment of up to 0.20%.
2019 Performance Data Submission
MIPS participants have until March 31, 2020 to submit their data and report 2019 performance. Quality measures reported through claims have been submitted throughout the year in 2019. CMS suggests that the best way to proceed is to log in to the QPP website using your QPP access credentials, and either submit your data or review the data submitted on your behalf by a third party. Preliminary feedback can be obtained, and the feedback will be updated within the 60-day runout period.
For the 2019 performance period, the minimum score needed in order to avoid a 7% fee schedule reduction in 2021 was increased to 30 points, and the Exceptional Performance threshold was increased from 70 to 75 points.
2020 Performance Category Changes
Our article on the 2020 Medicare Physician Fee Schedule (MPFS) included a review of the changes to the QPP, as this program is regulated by the MPFS. For the 2020 reporting year, HAP suggests the following documentation be adhered to when reporting these Quality Measures for radiology practices:
Measure

Description

Documentation Required

10-Point Measures (* = Bonus Point Eligible):

146*

Inappropriate Use of "Probably Benign" Assessment Category in Mammography Screening

A BIRAD 3 on a screening mammogram will result in a quality code that does not meet performance.

225*

Reminder to System for Screening Mammograms

For 2020, an Attestation Statement is allowable. Example: "Patient's information was entered into a reminder system with a target date for the next mammogram."

364*

Optimizing Patient Exposure to Ionizing Radiation: Appropriateness: Follow-up CT Imaging for Incidentally Detected Pulmonary Nodules According to Recommended Guidelines

Percentage of final reports for CT imaging studies with a finding of an incidental pulmonary nodule for patients age 35 and older. Include a recommended interval & modality for f/u and the authoritative source for the recommendation.

406*

Appropriate follow-up for incidental thyroid nodules

Applies to all CT, CTA, MR & MRA chest or neck exams with a thyroid nodule of <1.0 cm noted. Studies with incidental findings

With f/u recommended must document a reason for f/u
Without f/u recommended do not need a supporting statement.

7-Point Measures (* = Bonus Point Eligible):

76*

Prevention of Catheter-related Bloodstream Infections (CRBSI): Central Venous Catheter (CVC) Insertion Protocol

All PICC, Ports, Non-tunneled and Tunneled lines must have the following documentation (example) in the report: "All elements of maximal sterile barrier technique, hand hygiene, skin preparation and sterile ultrasound technique followed."

145*

Exposure for All Procedures Using Fluoroscopy

Documentation of either -

Exposure time and number of images (video-only = 1 image), or
Radiation exposure indices, including type of dose in mGy

for all services using fluoroscopy.

147*

Correlation with Existing Imaging Studies for All Patients Undergoing Bone Scintigraphy

All bone scan reports must have either –

A comparison to prior related images, or
A statement that there were no prior images available for comparison.

360*

Optimizing Patient Exposure to Ionizing Radiation: Count of Potential High Dose Radiation Imaging Studies: CT and Cardiac Nuclear Medicine (CNM)

Percentage of imaging reports for these exams for all patients that document a count of known previous CT (any type) and CNM studies that the patient has received in the previous 12-months.

130*

Documentation of Current Medications in the Medical Record for all E&M services

Percentage of visits for patients age 18 or older for which the physician attests to documenting a list of current medications using all immediate resources available on the date of service.

195

Stenosis Measurement in Carotid Imaging Reports

Must include a numerical digit for the percentage of the distal internal carotid stenosis even if it is 0%. A range is acceptable. State that the calculation was based on NASCET or similar criteria.

436

Utilization of CT dose lowering technique

For 2020, an Attestation Statement is allowable. Document that one or more dose reduction techniques were used.

3-Point Measure (* = Bonus Point Eligible):

405*

Appropriate follow-up for incidental abdominal CT, MRI and Ultrasound findings

Studies with incidental findings with f/u recommended must document a reason for the f/u.
Other measures that might be applicable to your practice include the following:
| | |
| --- | --- |
| Measure | Description |
| 21 | Selection of Prophylactic Antibiotic – First or second-generation Cephalosporin |
| 23 | Venous Thromboembolism (VTE) Prophylaxis (when indicated in ALL patients) |
| 265 | Biopsy Follow-up |
| 344 | Rate of Carotid Artery Stenting (CAS) for Asymptomatic Patients, Without Major Complications (Discharged to Home by Post-operative Day #2) |
| 409 | Clinical Outcome Post Endovascular Stroke Treatment |
| 413 | Door to Puncture Time for Endovascular Stroke Treatment |
| 420 | Varicose Vein Treatment with Saphenous Ablation: Outcome Survey |
| 421 | Appropriate Assessment of Retrievable Inferior Vena Cava (IVC) Filters for Removal |
| 437 | Rate of Surgical Conversion from Lower Extremity Endovascular Revascularization Procedure |
| 465 | Uterine Artery Embolization Technique: Documentation of Angiographic Endpoints and Interrogation of Ovarian Arteries |
Complete information describing the Quality Performance Measures for 2020 can be found here on the CMS website.
Conclusion
Time is of the essence if you need to submit your QPP data by March 31, 2020 (up until 8pm EDT). If you've already submitted data, you can get preliminary feedback on the CMS website. Your practice should already have received information about its 2018 performance results, and those adjustments are being realized in payments for 2020 services to Medicare patients. It would be a good idea to verify that the adjustment you expected is actually being applied correctly. Finally, be sure your reporting of 2020 measures is on track and that you've made any necessary adjustments to documentation.
Erin Stephens, CPC, CIRCC is the Sr. Client Manager, Education at Healthcare Administrative Partners.
Related Articles
2020 Medicare Fee Schedule Valuation Changes & Radiology Practice Impact
What the January 2020 Update to the Medicare AUC/CDS Mandate Means for Radiologists
Coding Changes That Will Impact Radiology Practices In 2020