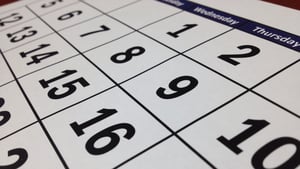 The "Patient Test Result Information Act", or Pennsylvania Act 112 of 2018, will take full effect on December 23, 2019. The Act was originally scheduled to begin in December 2018, but the imposition of citations and fines was delayed for one year. During that time, many hospitals and radiology practices have implemented systems designed to help them comply with this law.
To review, this act provides that the patient must be directly notified within 20 days when a diagnostic imaging exam is performed that identifies a "significant abnormality" may exist. The law defines a significant abnormality as one that "would cause a reasonably prudent person to seek additional or follow-up medical care within three months". It is important to note that this notice to the patient is in addition to the normal reporting of results to the ordering physician. A full detailed explanation of the rules to comply with this Pennsylvania state law is available in our December 2018 article.
A group of radiologists from the Hospital of the University of Pennsylvania and Pennsylvania Hospital published a case study titled "Ensuring Patient Follow-up of Significant Abnormalities Under Pennsylvania Act 112" in the September 28, 2019 edition of the Journal of the American College of Radiology. They describe in detail a variety of methods used by their colleagues in various hospitals to capture the information needed to trigger notification under the Act, summarized as follows:
Triggering event
Action taken
Hard stop; Radiologists are required to indicate within the dictation software whether a patient notification is needed
A daily structured query language report generates a list of patients for whom notification letters are needed.

A sentence is automatically inserted at the bottom of the report from which an automated patient letter is generated.

Voluntary; Radiologists insert standardized language to flag patients who should be notified. There is no system prompt.
A natural language processing algorithm is employed to search for signed reports with key words such as "recommend" or "follow-up".
An existing provider notification system was modified whereby reading room coordinators communicate critical and significant results for all patients designated by radiologists in the dictation software and EHR
The coordinator fills in the required patient and examination information into a patient notification letter template designed to comply with Act 112.
Some hospitals include the reporting of non-radiologist readers in their systems even though there has been no clear guidance from the state Department of Health as to which diagnostic services outside of radiology are covered under Act 112. The act specifies that the requirement to notify the patient does not apply to:
Routine obstetrical ultrasound exams
Plain x-rays
Emergency Department imaging services
Inpatient imaging services
Most practices have adopted an "embargo period" of 3 to 10 days after the report is signed before sending out the patient notice, in order to give ordering providers time to review and discuss the results directly with patients, according to the case study.
The case study authors opine that, "Pennsylvania Act 112 represents a paradigm shift in communication of abnormal diagnostic imaging findings directly to patients." The need for such a paradigm shift was highlighted in our review of the lessons learned from the $10 million award in a medical malpractice lawsuit that might not have occurred had this law been in effect in 2015. Our blog readers will know that we have described such a paradigm shift in several articles[1] about our own system that uses clinical analytics to identify incidental findings recommended for follow-up, notifies the patient about the situation, and then tracks their compliance with the recommendation. That same system was modified at the request of our Pennsylvania clients to comply with the Act 112 requirements.
Subscribe to this blog for the latest information that will help you maintain compliance with state and national regulations affecting your radiology practice.
[1] Healthcare Administrative Partners articles on Clinical Analytics:
Clinical Analytics for Incidental Findings Radiology Follow-up
New Study Supports the Value of IVC Filter Tracking Systems
Beyond Debate - Incidentalomas and the Need for Radiology Practice Proactivity
Closing the Loop - What Radiologists Should Know About Software
Recent Articles
What Radiologists Need to Know About ICD-10 Changes for 2020
"Closing the Loop": What Radiologists Should Know About Software
Keeping Your Practice Independent - Build on Existing Relationships