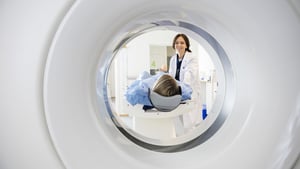 Our own Sandy Coffta, Vice President of Client Services, spoke with Aunt Minnie's Brian Casey at the 2019 RSNA Annual Meeting in Chicago. In the interview posted on auntminnie.com, Sandy mentioned some of the highlights that practices should be concerned about in the coming year.
On top of the list is Medicare's Clinical Decision Support (CDS) mandate. While there will be no penalty to radiologists in 2020, Sandy stressed that it is a year for practices to use to become prepared by identifying which referring physicians are not submitting the required information. Medicare will be supplying feedback using a message code on claims that are missing the CDS information during the 2020 grace period. Beginning in 2021, radiologists will no longer be paid for claims unless the required CDS information is included. Sandy suggests that practices initially work with their hospital system rather than with individual referring practices to be sure the hospital has a program in place for their physicians to use. It is important for radiologists to be at the table during the planning and implementation phases so they will be able to get the required information through their regular billing interface.
In addition to CDS reporting, Sandy noted that there will be changes to CPT and ICD coding for 2020, and especially that payers are always looking for more specificity in coding. Documentation of the working diagnosis should include enough signs and symptoms information to support medical necessity. As always, attention should be paid to document the correct laterality, timing, and acute vs. chronic nature of the patient's condition.
Mr. Casey asked about other coding areas that require attention. Sandy noted that the three most common errors she sees in radiology are:
A complete abdominal ultrasound exam has to contain 8 elements, and all should be included in a well-designed template.


Signs and symptoms for vascular ultrasound are extremely important to document, as the majority of these exams are negative and the reason for performing the exam has to be clear.


Always be sure to dictate the required information for 3D reconstruction on CT Angiography exams.
Sandy is an enthusiastic proponent of standardized reporting, and she emphasized that the use of templates will help assure the radiologist that he or she has provided all of the necessary information to support the billing and reimbursement of the procedure.
Our blog readers receive the most up-to-date information to help them optimize their reimbursement. Subscribe today so you don't miss a thing!
Related Articles:
Update on Surprise Billing Legislation Across the Country
How the Medicare Final Rule For 2020 Will Affect Radiologists
Pennsylvania's Act 112 to Become Effective Soon