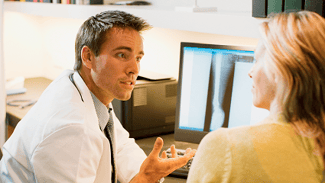 The new healthcare economy is redefining many working relationships that have remained unchanged for years. As a prime example, radiologists are understandably concerned about becoming viewed as commodities rather than as physicians who fill a vital role in patient care. One way for them to escape this stereotype is to have more direct interaction with patients, which will also simultaneously achieve one of the goals of the American College of Radiology's (ACR) Imaging 3.0 initiative – to provide patient-centered, value-based care.
The ACR's 2016 annual meeting included presentation of the findings of a survey conducted to evaluate patient satisfaction in the communication of imaging results in the Emergency Department. The study found that following the direct delivery of results by the radiologist to the patient, 73% of patients correctly identified a radiologist as a doctor specialized in medical imaging and interpretation. This is compared with only 15% in a pre-test before any imaging was conducted. The authors of the 41-patient study concluded that "Patients reported better understanding of the role of the radiologist in their healthcare, demonstrated improved comprehension of their diagnosis, experienced less anxiety, and were more satisfied with their ED visit when radiologists were more directly involved in their care."
The study protocol included the completion of a pre-test questionnaire by patients about to undergo cross-sectional imaging. After completion of the radiologist's interpretation of the exam, the responsible Emergency Department resident or staff gave patients the results of their imaging. This was followed by the radiologist delivering the results to the patient and explaining the findings using an iPad to view the images. Patients reported that they had a better understanding of their diagnosis and treatment plan after discussing the findings with the radiologist. They also indicated that they would be more likely to choose this hospital again as a result of their positive experience.
Although it is limited in scope, this survey shows the positive effect on patient satisfaction that can be gained through direct interaction by radiologists with patients. This can be a real benefit to the hospital and it can also serve to enhance the image of the radiologist as an integral part of the patient care team. The ACR's web site contains a wide range of information related to Imaging 3.0, including resources gathered by the Commission on Patient- and Family-Centered Care.
Most popular recent posts:
The Top 3 Reasons for Radiology Claims Denials and How to Avoid Them