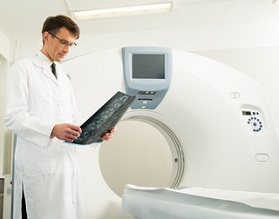 One of the new coding requirements imposed by Medicare for 2016 is that practices attach a billing modifier to CT procedures performed with older CT equipment that does not meet the standards of NEMA XR-29-2013. Medicare's payment for services billed with the new "CT" modifier will be reduced by 5% of the technical component. Both the Radiology Business Management Association (RBMA) and the American College of Radiology (ACR) have posted blog articles this week about the new requirements.
The ACR article contains details about the requirements of the National Electrical Manufacturers Association (NEMA) standard and how to apply the new Medicare rules. They note that this penalty applies only to the technical component and the technical component of the global fee of diagnostic CT procedure CPT® codes that include head/brain, abdomen, pelvis, upper extremity, lower extremity, etc. It does not apply to interventional radiology procedures performed on the CT scanner, nor does it apply to CT simulation for radiation therapy or to PET/CT procedures. A list of the applicable CPT® codes is included, and the ACR notes that Medicare "will maintain a list of codes subject to the modifier in the web supporting files for the annual rule."
While it might be tempting to avoid using the modifier in order to receive higher reimbursement, failure to accurately report to Medicare will carry civil monetary penalties on top of fee refunds if Medicare identifies the omission. The ACR says that it "highly encourages all practices with CT equipment to check their equipment for compliance and update equipment as necessary to become compliant." This is good advice, especially as the 5% penalty will increase to 15% on January 1, 2017.
Radiology practices will have to survey their equipment to determine which scanners comply with the standard and which do not. Then, this information must be supplied to their coders so the new modifier can be applied appropriately. The internal reporting processes of the practice will have to include information about which scanner was used in a particular exam. The RBMA suggests, "In addition, practices will need to communicate to coders when an equipment upgrade takes place so that coders do not accidentally stop applying the CT modifier to CPT® codes before the equipment is actually upgraded nor do they continue to apply the payment reduction modifier to equipment that has been upgraded since the beginning of 2016."
This is yet another area where precise documentation in radiology reports will benefit the practice. Those who are using templates or another standardized reporting technique will want to add this information to their documentation for the applicable exams.
Need to improve your radiology practice documentation? HAP's team of radiology experts can help. Contact us today and share your documentation challenges with us.
Related articles:
Documentation Diligence is the Key to Radiology Practice Reimbursement
Avoid Medicare Payment Reductions by Upgrading CT Equipment