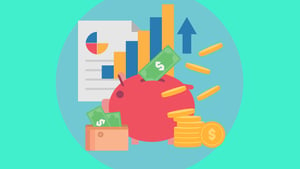 When the CARES ACT was passed on March 27, details about the specific allocation of the $100 billion were not initially revealed. Today, April 10, $30 billion is currently being distributed to all Medicare providers in the first round of funding disbursement.
As we mentioned in our article What We Know - Federal Relief Programs That Could Assist Radiology Practices, the fund is to provide grants to practices that have experienced a reduction in revenue or an unexpected increase in costs due to the COVID-19 public health emergency. This grant is unrelated to the Accelerated and Advance Payment Program available through the Centers for Medicare and Medicaid Services (CMS) for which an application is required.
The amount received is proportional to your practice's share of all Medicare payments made in 2019. This is grant money, separate from Medicare advance payments or Paycheck Protection program loans, and does not need to be paid back.
Here are highlights on Conditions of Payment and the Payment calculation formula from the U.S. Department of Health & Human Services (HHS) Site:
As a condition to receiving these funds, providers must agree not to seek collection of out-of-pocket payments from a COVID-19 patient that are greater than what the patient would have otherwise been required to pay if the care had been provided by an in-network provider.


This quick dispersal of funds will provide relief to both providers in areas heavily impacted by the COVID-19 pandemic and those providers who are struggling to keep their doors open due to healthy patients delaying care and cancelled elective services.
How are payment distributions determined?
Providers will be distributed a portion of the initial $30 billion based on their share of total Medicare FFS reimbursements in 2019. Total FFS payments were approximately $484 billion in 2019.


A provider can estimate their payment by dividing their 2019 Medicare FFS (not including Medicare Advantage) payments they received by $484,000,000,000, and multiply that ratio by $30,000,000,000. Providers can obtain their 2019 Medicare FFS billings from their organization's revenue management system.


As an example: A community hospital billed Medicare FFS $121 million in 2019. To determine how much they would receive, use this equation:
$121,000,000/$484,000,000,000 x $30,000,000,000 = $7,500,000
President Trump has also secured commitments from private insurers, including Humana, Cigna, UnitedHealth Group, and the Blue Cross Blue Shield system to waive cost-sharing payments for treatment related to COVID-19 for plan members.
Please also check the HHS site for detailed conditions of payments.
The second round of fund allocation from the $100 billion will be earmarked for providers that receive a high percentage of Medicaid revenue with a specific focus on children's hospitals, nursing homes and pediatricians, according to CMS Administrator Seema Verma. We will report on the next round of funding as soon as they are released by CMS. Subscribe to this blog for the most recent information.
Rebecca Farrington is the Chief Revenue Officer at Healthcare Administrative Partners.
Recent Articles
What We Know – Federal Relief Programs That Could Assist Radiology Practices
Expansion of the Accelerated & Advance Payments Program for Providers & Suppliers During the COVID-19 Emergency
Quality Payment Program Modified Due to COVID-19 Outbreak