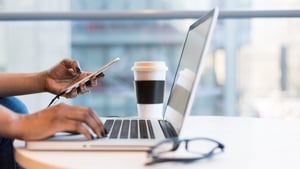 There was a time when word-of-mouth from friends and family was enough to inform our decisions, but today advice from the internet has taken precedence over recommendations from those we know personally – and this is especially true in healthcare. Patients are turning to the internet to research physicians, practices, and procedures before they even call the office to make an appointment. Individuals seeking care are more likely to choose physicians with high ratings and positive reviews over physicians with a less-than-stellar online presence. Physicians need to be serious about their online reputation and take the necessary steps to ensure it is positive.
There are several components to cultivating and maintaining a successful online presence:
Social Media Usage
With over ¾ of the American population actively engaged with social media, it is a communications medium that is here to stay. In a HAP poll, we found that our readership is indeed actively using social media to promote their practices.
| | | | | | |
| --- | --- | --- | --- | --- | --- |
| Facebook | LinkedIn | Twitter | Instagram | Other | None |
| 37% | 37% | 29% | 18% | 11% | 11% |
If your practice has several different social media sites, it is important that you maintain consistency across all sites, i.e., ensure that the messaging/branding is the same on each one. Consider creating a social media policy to empower members of your practice to use social media appropriately. An example of such a policy is available from the Mayo Clinic. Depending on the policy adopted by the practice, physicians can consider separating their social media into personal and professional accounts.
Monitoring Patient Reviews
Patients have several online outlets available to leave physician reviews, including sites like Facebook, Google Reviews, Yelp and Healthgrades just to name a few. It is important to ask your patients about their experience, and encourage them to leave positive reviews. Practices can do this by asking patients to rate their visit on a tablet in the waiting room before they leave or by following up with an email that includes a link to leave a review while the visit is still fresh in their minds. Make sure to thank patients for their positive feedback.
It is extremely important to respond appropriately to any negative reviews you might receive on any platform. Do not ignore a negative review and expect it to just fade away. Consider discussing who should respond to the review – it might not be the physician, but someone else in the practice. Be prompt with your response and make a concerted effort to understand the issue the person had a complaint about. Be mindful of the tone of your response and be careful you don't violate HIPAA when addressing any of the patient's case specifics online.
Unique Challenges for Radiologists
Since many radiologists do not see the patients themselves because of their physical location, it is easy for them to assume they do not have to worry about their online presence, but that is not the case. Negative feedback can come in the form of complaints about a bill, so you should work with your revenue cycle partner to ensure such problems don't occur in the first place. One of our radiology clients noted that when a patient does get face time with a radiologist, reviews are generally positive. Therefore, it is important for radiologists to make the most of the time they spend with patients when the opportunity arises.
Conclusion
The internet is a powerful tool that physicians can use to boost their practice performance if they make the commitment to maintaining a positive online reputation. This is by no means an exhaustive list of steps to take to manage your online reputation, and you can find out more about the subject by watching our recent webinar. Subscribe to this blog for more articles like this.
Recent Articles
The Value of PICC Lines for Interventional Radiologists
Appropriate Use Criteria Revisions by the American College of Radiology
Q&A with RADPAC Director Ted Burnes