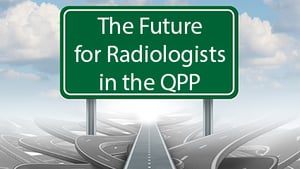 Recently reported developments in federal health care policy could change the direction radiologists are taking to maintain maximum Medicare reimbursement.
Alternative Payment Model participation is still the goal
We believe that most physicians will eventually participate in an APM, and we encourage radiologists to seek out ways to get there sooner rather than later. We were excited about the prospect of Patient-Focused Payment Models (PFPM) becoming the best path for radiologists to participate in the Advanced Alternative Payment Model (A-APM) track of the QPP, and looked for innovators to propose models that would serve the unique clinical and financial needs of the specialty. However, the Secretary of Health and Human Services (HSS) recently reported that no PFPMs would be approved in the near future. Other APM avenues continue to exist, as described in our recent articles, and radiologists should explore these when they have the opportunity to do so.
A look back to 2017
Most radiologists are participating in the QPP through the MIPS track, and the 2017 Performance Feedback Reports containing the results have just been released by CMS. Practices can access their score on the CMS website using their Enterprise Identity Management (EIDM) credentials. The CMS Fact Sheet explains the scoring and payment adjustment process. Practices that received a perfect score of 100 are finding that they will receive a 2.02% Medicare payment increase in 2019 as a result of their 2017 MIPS score. Healthcare Administrative Partners is pleased to report that all of our Measure Assurance Services clients achieved a positive payment adjustment for 2019!
What does a 2.02% payment adjustment mean to your practice? Stay connected to our blog for an upcoming analysis that will help you answer this question.
What's happening in 2018
Beginning in reporting year 2018 (for payment adjustments in 2020), the MIPS Cost Category will represent 10% of the final score. If applicable, the 2017 Performance Feedback Report shows your practice's Cost score, even though it was not used in the calculation of the Final Score for 2017. If the Cost Category score is not included in your Feedback Report, this indicates that your practice did not have enough attributed patients (35) to meet the minimum threshold for the Medicare Spending Per Beneficiary measure. This information can be used as an alert that the Cost Category might come into play for your practice in 2018. Our recent article How Important is the MIPS Cost Category to Radiology Practices? outlines this category and includes information about how to prepare.
Coming up in 2019
The rules for QPP reporting year 2019 are in development. CMS has just released its Medicare Physician Fee Schedule Proposed Rule for 2019, which includes the QPP rules as well. Although the Proposed Rule will give us a good idea of what might happen, we won't be sure until the Final Rule is released in November. Our team will provide a full report of the Proposed Rule for our blog readers in the next few weeks, and of course we will also update you on the Final Rule when it is issued.
Conclusion
As a relatively new program, the playing field of the QPP is shifting constantly and changing every year. The best approach last year might not achieve maximum results next year. We will continue to report on the past, present and future state of Medicare reimbursement, and you can stay current by subscribing to this blog.
Richard Morris is the Director of Value-Based Strategy at Healthcare Administrative Partners.
Related Articles:
What Does APM Participation Mean for a Radiology Practice?
How Patient Consumerism Impacts Today's Radiology Practice
Reviewing the Rules for Imaging Centers Operated as Hospital Outpatient Departments