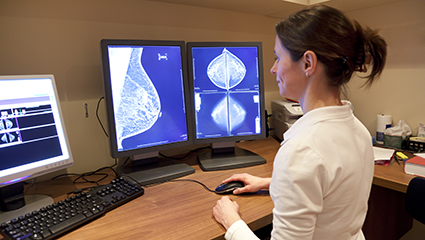 Medicare publishes its rules and requirements for the coding and billing of medical procedures to obtain reimbursement under its programs, but many commercial insurers are not as transparent about their own requirements. This leaves medical billing professionals in the dark when there are new procedure codes or changes to existing coding in the American Medical Association's CPT® code set or by federal regulation. Such is the case with mammography coding for 2017. Below we have summarized the key coding considerations for radiology practices billing mammography services this year. (Click here to read our complete article on the 2017 coding changes impacting diagnostic and intervential radiology.)
New CPT codes for mammography services were introduced several years ago that would simplify the coding and billing of screening and diagnostic mammography. Computer-aided detection (CAD) had become so commonplace that to continue using an add-on code to identify the use of CAD no longer made sense, and so the new codes bundled CAD in with the procedure itself. At the same time, digital imaging had largely replaced film-screen imaging so the need for a separate set of analog imaging codes was eliminated.
The Centers for Medicare and Medicaid Services (CMS) originally announced that it would adopt the new CPT coding as of January 1, 2017. However, in the final rule released in late November 2016, CMS announced that it would not adopt the new coding system for use in the Medicare program for 2017. Instead, they continue to accept only a series of "G" codes for mammography services. The following table shows the crosswalk between the two sets of codes: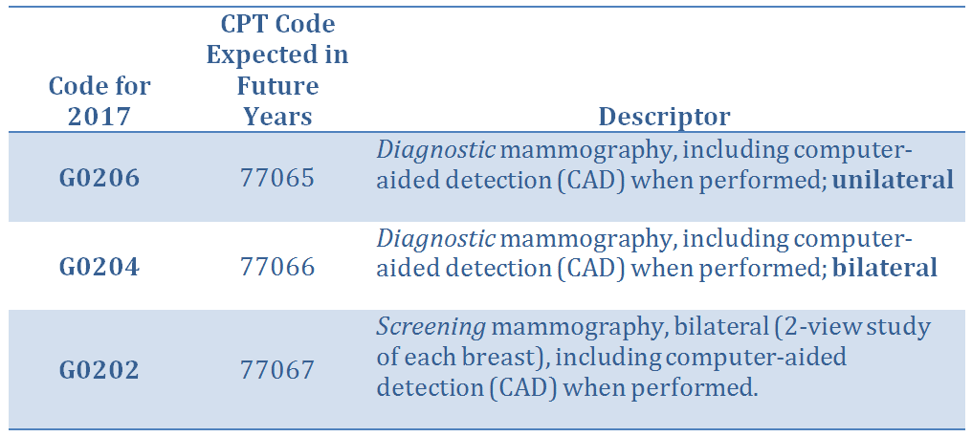 There also has been no change for 2017 in the use of the add-on code to charge for Digital Breast Tomosynthesis (DBT) when it is performed. CPT 77063 is used for DBT in conjunction with screening mammography and G0279 is used in conjunction with diagnostic mammography.
Due to the late decision by CMS to retain its previous coding structure, many radiology practices and commercial payers had to backtrack from their planned switch to the new CPT coding. This left the question in the minds of many professionals as to which codes would be accepted by the various payers.
The Health Information Services team at Healthcare Administrative Partners has compiled data showing that most commercial payers are following the Medicare lead by continuing to accept the "G" codes for mammography services. Only Horizon Blue Shield in New Jersey and Massachusetts Medicaid were reported to be accepting the new CPT codes for 2017. In fact, the only denials reported occurred when CPT codes were used in place of G-codes.
CMS says that the new CPT codes will be implemented for Medicare beginning January 1, 2018, and it is expected that commercial insurers will follow along. However, system adjustments are not always available on the first day of the rules changes and so it will be important to monitor the situation. As with any change of coding it is essential that radiology practices and their revenue cycle managers review denials promptly and follow up on any mismatched codes. When the billing system allows, changes should be made to align coding by payer to prevent recurring denials.
Healthcare Administrative Partners is committed to assisting our radiology practice clients in maximizing revenue collection from all payers. Subscribe to this blog to stay up to date with changes in radiology coding and billing as they occur.
Have a radiology billing or coding question in need of an answer? Contact us right now and tell us how we can help. Our mission is to enable every radiology practice to maximize the revenue your providers have earned.
Related articles:
How the 2017 Coding Changes Will Affect Diagnostic and Interventional Radiology Practices
Regulatory Changes Affecting Radiology Reimbursement in 2017