Congress has enacted the "Medicare Access and CHIP Reauthorization Act of 2015" (MACRA), which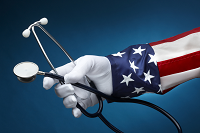 makes sweeping changes to the Medicare payment system. Initially conceived to put an end to the perennial struggle with the Sustainable Growth Rate (SGR) methodology, MACRA replaces the SGR with a valuation system that will minimally increment Medicare fees in the near term but which will eventually tie physicians' fees to the quality measures they report.
An April 16, 2015 article by the law firm ReedSmith in their Health Industry Washington Watch summarizes the various provisions of the new law, and their Client Alert goes into even more detail. The MACRA provision that will likely have the most bearing on physician practices in years to come is a new program called the Merit-Based Incentive Payment System (MIPS).
As of July 1, 2015, Medicare fees will be increased by 0.5%, followed by additional 0.5% increases in each year for 2016 through 2019. Beginning in 2019, MIPS will apply either positive or negative adjustments to the fee schedule based on each physician's performance. MACRA includes payment incentives to encourage providers to participate in Alternative Payment Models (APMs), such as Accountable Care Organizations (ACOs) that have been in place for a few years. APM participation will provide a different structure of measurement that focuses on coordinating care, improving quality and reducing costs, and it will remove those providers from the MIPS program.
Initially, the maximum negative adjustment under MIPS will be 4% in 2019 (rising to 9% in 2022 and afterward), and the maximum positive adjustment will initially be 12%. The positive adjustment in total dollars will not be more than the total negative adjustments since the program must be budget neutral. An additional incentive payment for exceptional performance will be available each year from 2019 to 2024.
The threshold for determining positive or negative adjustments will be the mean or median (yet to be determined) of the composite performance scores of all physicians based on their performance in the four categories of Quality, Resource Use, Clinical Practice Improvement Activities and Meaningful Use. This is an expansion of the quality reporting programs in effect today: the Physician Quality Reporting System (PQRS), Meaningful Use of Electronic Health Records (MU-EHR), and the Value-Based Payment Modifier (VM). Those programs will remain unchanged through 2018, and then they will be combined into the new MIPS beginning in 2019. In addition, the automatic exemptions from the EHR Meaningful Use program currently in place for radiologists, pathologists and anesthesiologists will expire at the end of 2018, just in time for these specialties to participate fully in the MIPS.
The regulations containing the details of this new payment system will be developed over the coming years. It's safe to say that it will be a complex set of rules that will require practices to adapt and change in order to maximize their reimbursement under Medicare. Be sure to subscribe to this blog as we cover the latest news impacting physician reimbursements.
Successfully participating in the Quality Reporting programs available today will position physician practices in the best possible way to be ready for MIPS in 2019. Healthcare Administrative Partners has introduced PQRS Measure Assurance Services to help practices enhance potential Medicare reimbursement under today's rules, and to be ready for the coming changes in reimbursement. Contact us to learn how to put your practice on the path to compliance.
Related articles:
An Overview of the Medical Quality Reporting Provisions Affecting Radiology Practice Reimbursements