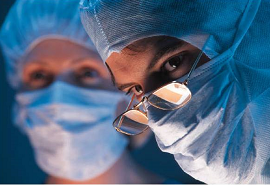 In our two recent articles we covered the effect of changes to codes in the Current Procedural Terminology1 (CPT) for diagnostic radiology and radiation oncology. Now we turn our attention to CPT code changes for 2016 that affect interventional radiology (IR). As before, our analysis focuses on the effect those changes will have on practice revenue. Each practice's experience will vary based on the volume of procedures that use the affected codes, and a volume-weighted analysis of the entire Medicare fee schedule is recommended to gain a complete understanding of the impact to the practice.
Across the fee schedule spectrum, Medicare2 is bundling two or more codes that are frequently billed together into a single new code to describe the entire procedure. This process usually assigns a lower total value to the single procedure code than the multiple combined codes carried. On the positive side, there are now new codes to describe previously unlisted procedures, which will result in more reliable and appropriate reimbursement for those procedures. IR gains quite a few of these new codes, but also loses reimbursement due to the bundling of existing codes.
Percutaneous Biliary Procedures
New bundled codes replace 9 codes that were previously used in combination with S&I codes. All of the new codes include any diagnostic imaging or imaging guidance, as well. The table below shows the huge negative impact of this bundling process: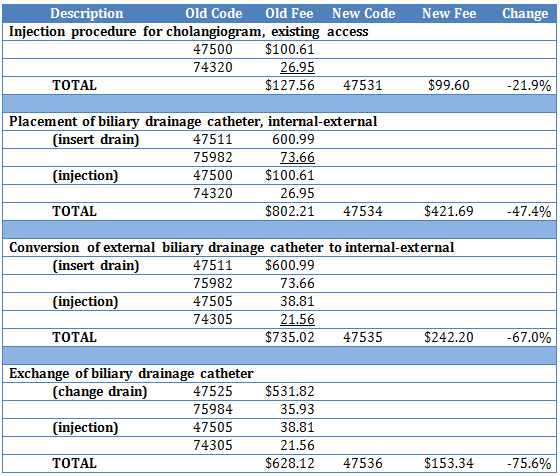 The 5 new codes listed below describe procedures that are currently reported using endoscopic or unlisted procedure codes. The new codes should provide more reliable reimbursement: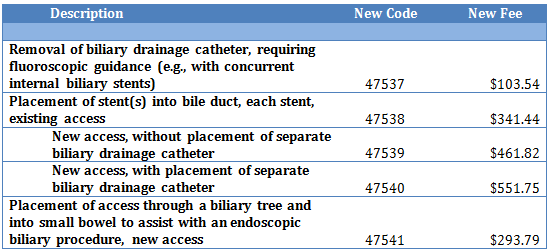 Genitourinary System
Renal Pelvis Catheterization
Four new codes for renal pelvis catheter procedures will bundle the S&I and imaging guidance with the surgical procedure, and will include the diagnostic nephrostogram and/or ureterogram. The results in this area are mixed, as shown below:
In addition, a new code (50430) will be used for the new access injection for an antegrade nephrostogram and/or ureterogram, including imaging guidance and S&I, and code 50431 will be used with existing access.
Ureter – Urinary System
A series of new codes have been created for ureteral stenting, embolization and dilation. These include diagnostic imaging (such as a nephrostogram) and all imaging guidance, supervision and interpretation.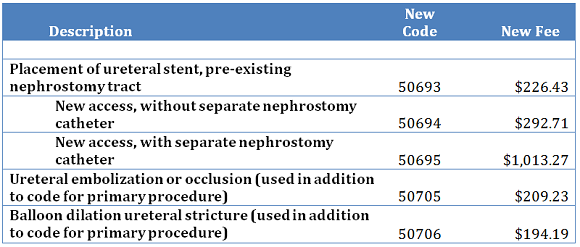 Intracranial Endovascular Intervention
New CPT codes will be available for intracranial thrombectomy and infusion therapy. These include catheter placement, supervision and interpretation, as well as diagnostic angiography and all imaging guidance.

Percutaneous image-guided sclerotherapy of fluid collection
A new code (49185) will describe this procedure, which currently is billed by using an unlisted code or open surgical procedure codes. This will assure more reliable reimbursement of the $127.91 Medicare allowable for this procedure. It includes contrast injection, diagnostic imaging, imaging guidance, and S&I.
Soft-tissue marker placement
Two new codes will be available for soft-tissue marker placement with imaging guidance, in addition to those already available. The most site-specific code should be used. Reimbursement for CPT 10035 (for the first lesion) is $89.57, and for CPT 10036 (each additional lesion) it is $45.14.
Summary
Medicare estimates that Interventional Radiology will see a reimbursement increase of 1% for 2016, but the actual overall result for any particular practice will depend on the case mix of procedures performed. Decreases due to bundling will cut into any gains from newly defined procedures and any other positive changes if these represent a significant portion of the practice volume. We recommend a volume-weighted analysis using 2015 procedure data to estimate the impact of the myriad changes for 2016. Contact us to learn more about how to conduct such an analysis for your practice.
1 Current Procedural Terminology (CPT®) is a copyrighted code set developed and maintained by the American Medical Association, and CPT is a registered trademark.
2 In this article, the fees used for illustration are from the national Medicare fee schedule using the 2016 conversion factor of $35.8279, and they assume the procedure is being done in a hospital facility. Medicare further applies a geographic adjustment to develop specific fees for each region of the country.
Related articles
How the 2016 Coding Changes will Affect Radiology Practices