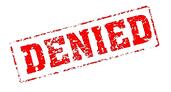 Unfortunately denials are a fact of life, but in radiology billing, there isn't much room for error. Due to the high volume nature of the work, errors can proliferate quickly. Denials not only represent lost revenue; the cost of resubmission or appeals can sometimes exceed the reimbursement value. Managing denials is an imperative, but without a smart strategy, they could be eroding your profitability.
A process that contains adequate measures of remediation and prevention will help you take control of – instead of being controlled by – denials. Your goal is to not only increase your collection rate, but to accelerate your cash flow, and do so efficiently. According to the AMA, better performing medical groups average a 4% denial rate on first claims submission. For every point you decrease your denial rate, you increase your opportunity to optimize your revenue.
Remediation
Addressing the problem at hand is the first order of business. Initially, you'll need to standardize your denial categories so you can monitor, measure and track your denials by reason. You should be able to sort denial types by payer, physician, site, modality, procedure code and dollar amount to identify major trends impacting reimbursement.
Here are some steps to organize your workflow around the data:
Assign staff to manage denials. Organizing the team by payer helps staff become familiar with specific payer issues and appeals procedures.
Document the appeals process for each payer.
Develop written processes for managing various types of denials to share best practices and speed resolution.
Work denials in batches grouped by denial type to gain efficiencies.
Prioritize workload based on dollar value, filing deadline, and probability of success.
Establish write-off rules that consider both dollar value and procedure frequency.
Hold regular knowledge-sharing meetings to discuss what strategies have been successful with other payers.
By assigning a classification (e.g. resubmitted, appealed, closed, resolved, etc.), an outcome indicator (success or failure with dollar impact) and a deadline to each denial, you can regularly assess status and track how well your process is working. This will enable you to report your success rates by payer, site, and reason.
Prevention
Hospital-based practices have particular challenges in managing the denial process due to handoffs. When the source of the problem is registration or the ordering physician, they often don't try. Set up meetings with hospital administrators and communicate how they can help. With detailed denial data and the ability to demonstrate revenue impact, you are better positioned to get the cooperation you need.
For an imaging center where you have control over the registration process, standardize the tasks and their sequencing so you can monitor and measure progress consistently. Patient-facing personnel play a major role in preventing denials. Make sure patient access personnel and techs are aware of issues that can result in denials such as incomplete reason for exam. Gathering as much information as possible when a service is ordered will help reduce medical necessity denials.
A frequent cause of errors is pre-certifications, where a misalignment can occur. Since imaging centers have complete transparency into this process, there's no reason to be denied if you are diligent about your protocols. Before the service is provided, be sure to check the pre-cert to ensure that it matches the exam to be provided, the date has not expired, the pre-cert has not been used. Prior to the exam, confirm with the insurance carrier that the pre-cert is valid. If hospital-based practices are receiving denials for pre-cert procedures, they should regularly review this information with the radiology department administrator. If a practice is losing revenue for these higher-value procedures, the hospital is, too, so the feedback should be welcome.
Route coding errors back to your coders for correction. This ongoing exposure to results, as well as periodic reports detailing coding mistakes or omissions, bundling errors or inappropriate modifiers, should help coders improve accuracy rates. If not, these errors will be repeated many times over. Physicians need feedback, too, so they can ensure they provide the specificity and appropriate terms in their documentation to support optimal coding.
Your monthly denial statistics will help you prioritize your denial prevention projects by identifying where you will have the most impact. Where do most denials originate? What diagnosis or procedure is creating the majority of your denials? Reviewing denial reports quarterly for each payer should provide good visibility into issues that may need clarification in your contracts. Use it as an opportunity to negotiate your contract terms by addressing issues that surface as a result of your analysis.
Summary
Denials can take a toll on your bottom line. They are largely preventable or recoverable, but without actively tracking and pursuing them, the opportunity cost is incalculable. An ongoing remediation and prevention process will improve your first-pass claims submission rate and reduce rework, resulting in a more efficient and effective revenue cycle. It may take about six months to see real results, but the long-term benefit is well worth the effort.
Related articles:
How to Document y-90 Radioembolization Cases to Maximize Reimbursement
Reimbursement Benefits of Structured Radiology Reporting