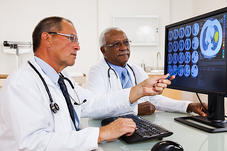 It seems like a simple premise: Identify the services provided, substantiate the reason, interpret your findings, bill the payer and receive compensation per your contract. However, charge capture in radiology is anything but simple, especially in a hospital. Considering the high volume of procedures performed, coupled with multiple departments, personnel and IT systems involved in the process, there's plenty of opportunity for error.
Optimizing the charge capture process involves more than identifying diagnosis and procedure codes; it's doing what's necessary to be reimbursed appropriately and efficiently. If there is one thing that's clear about achieving this goal, it takes a village.
Charge Reconciliation
The most basic audit verifies that 100% of your completed exams are submitted for billing. Without this safeguard in place, your loss is unknown. Implementing an automated reconciliation process that compares your RIS accession log of completed exams against those submitted for billing can prevent costly mishaps. Comparing professional vs. technical charges at a procedure level provides additional specificity. By eliminating codes specific to technical billing only, reconciliation can identify missed charges, which represent lost revenue.
Automating the reconciliation process lets you focus on the outliers that require follow up. Missing exams could result from interface issues to delayed dictation to reports awaiting signature. By building in a time lag that is reasonable for your facilities, you can ensure that you do not waste time on stragglers. Investigate exceptions and pursue follow up until you obtain resolution on all completed exams.
Charge Capture
Opportunities for error begin early in the process. Referring physicians often provide "Rule out" diagnoses that are not an acceptable reason for exam. Invalid reasons for exam can lead to one of the top reasons for claims denial, medical necessity. The technologist can positively impact the process by making the necessary updates or changes required for documentation and billing purposes. Before the exam, he can solicit additional information from the patient concerning the reason for exam. If the service performed differs from the scheduled exam or an additional billable event should be captured, the tech can make the necessary adjustments.
Documentation
Once captured, the radiologist must ensure that the documentation substantiates the exam and meets the requirements defined by the coding guidelines. Regulatory requirements are complex and continually changing. The clinical team needs periodic training to stay current with documentation requirements and coding guidelines. Using templates will reduce the likelihood of documentation variability. However, caution should be exercised when using templates. Documentation should reflect exam specifics, and physicians should use customization to tailor individual reports as needed.
Coding
Ensure all coding is based on the final dictated report and performed by certified coders with in-depth expertise in radiology. Experienced radiology coders will identify discrepancies in the final report; however, without adequate documentation, they may not be able to justify medical necessity or ensure the optimum level of reimbursement. Their alternatives are to downcode, which affects reimbursement, or to try to obtain more detail from the physician, which may have an impact on cash flow.
Make sure you have an efficient feedback process that enables coders to seek immediate resolution to discrepancies. This process and any resulting corrective actions also serve to provide timely feedback for the radiology team. Ongoing dialogue and interactions between the clinical team and coders will help ensure accurate and complete coding.
Benefits
Radiology service providers who improve their charge capture processes can realize a wide range of benefits, such as:
Improving revenue recognition;
Minimizing denials and improving first-pass claims rate;
Reducing threats to compliance;
Increasing the efficiency of your revenue cycle process and keeping operating costs down;
Developing more accurate reporting for quality programs, such as PQRS. This will become increasingly important as reimbursement transitions from fee-for-service to fee-for-value and as the industry transitions to ICD-10.
The ability to capture charges effectively and document them completely can contribute to the fiscal health of your practice. Even one kind of error can be costly in terms of revenue and rework when it is repeated over time in a large number of exams. Achieving sustainable quality results will take ongoing diligence and a team effort.
With the cuts in radiology reimbursement showing no signs of abatement, it's more important than ever to put the safeguards in place to make sure you are optimizing your charge capture. Even small process improvements can yield immediate results and long-term benefits for your practice.
Healthcare Administrative Partners (HAP) is a full-service revenue cycle provider. HAP offers a full suite of integrated business outsourcing solutions or individual billing, coding or consulting services that complement the functionality provided by physician practice staff.