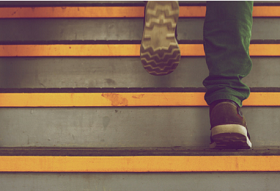 Now that 2016 is in full-swing, the new realities of our changing healthcare economy are becoming very apparent to providers across all specialties, and radiology is no exception. As physician practice leaders, assessing how to maintain and grow your practice as the transition to value-based compensation continues is not an easy task. At Healthcare Administrative Partners, our mission is to educate practices on these matters and provide a path to optimized performance even in the most challenging markets. Our continuing series of articles, "A Program for Successful PQRS Participation for Radiology Practices," is specifically designed to help you maximize reimbursement and reduce compliance issues under the Physician Quality Reporting System (PQRS). So far we've covered:
Step 1: how to determine the eligibility of your practice's providers,
Step 2: determining whether to participate as a group or as an individual,
Step 3: how to choose which PQRS reporting method to use, and
Step 4: selecting the measures to be reported.
Step 5: implementing workflows to support PQRS data collection.
Now, as the annual reporting cycle for 2015 is in its final phase, we review the various methods of submitting the collected data to assure compliance and avoid automatic penalties. The process of submitting PQRS data will vary depending on the reporting method selected in Step 3. Understanding the time frame and pre-registration requirements for the method you have chosen is essential to being ready to report properly.
Regardless of the method being used, the reporting period is the full calendar year, January 1 – December 31, 2015. The following table contains considerations for each of the available reporting methods.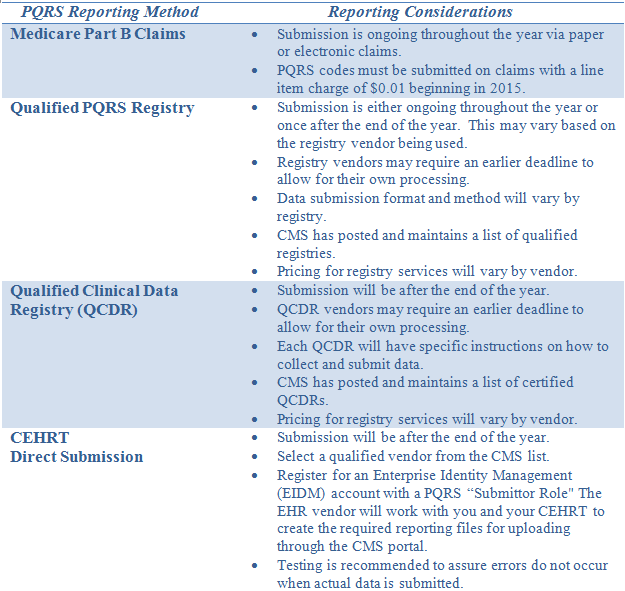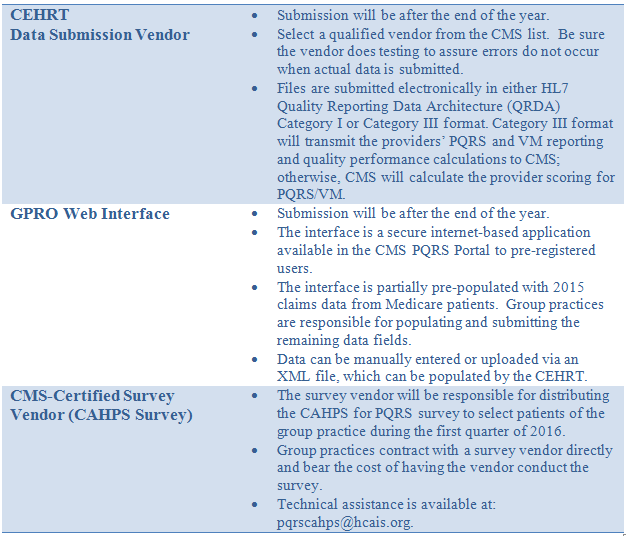 For all methods other than submitting data via Medicare claims, which is an ongoing process throughout the year, there are specific deadlines to be met.
Submit 2015 data from January 1, 2016 to March 11, 2016 at 8:00 PM EST for:
CEHRT Direct Submission
CEHRT Data Submission Vendor
Qualified Clinical Data Registry (QCDR) – QRDA III format
Submit 2015 data from January 18, 2016 to March 11, 2016 at 8:00 PM EST for:
Submit 2015 data from January 1, 2016 to March 31, 2016 at 8:00 PM EST for:
Qualified PQRS Registry
Qualified Clinical Data Registry (QCDR) – XML file format
Note: An Enterprise Identity Management (EIDM) account with "Submittor Role" is required for these PQRS submission methods. CMS has an EIDM System Toolkit online for more information.
If you have not submitted PQRS codes for 2015 via Medicare Part B claims, select and contact a registry or vendor immediately if you have not already done so. Be aware that registries may impose their own earlier deadline to allow time for their processing before final submission. The use of either the CEHRT Direct Submission or the GPRO Web Interface requires pre-registration and setup before they can be used.
The reporting of quality measures to Medicare will continue to be a high priority for years to come. The current PQRS and Value-Based Payment Modifier (VM) programs will be an integral part of the new Merit-Based Incentive Payment System (MIPS). For payment years 2017 and 2018, physicians' participation in PQRS and VM for 2015 and 2016, respectively, will affect their reimbursement under the current structure. Medicare payments in 2019 will be the first that are computed under MIPS, which will use 2017 data collection for the calculation of the 2019 increases or decreases from the basic Medicare fee schedule.
For more background on these quality-reporting programs, read our articles that cover the fundamentals of PQRS/VM for radiology practices and provide an overview of the reporting provisions. Be sure to subscribe to this blog to receive the latest in our continuing series of articles to help your practice achieve successful PQRS participation and maximize your reimbursement from Medicare.
Healthcare Administrative Partners offers PQRS Measure Assurance Services to help practices enhance potential Medicare reimbursement under today's rules, and to be ready for the coming changes in reimbursement. Contact us to learn how to put your practice on the path to compliance.