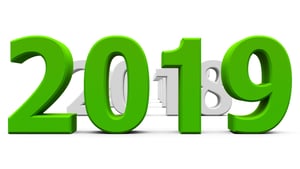 The Centers for Medicare and Medicaid Services (CMS) has combined its rule making for both the Medicare Physician Fee Schedule (MPFS) and the Quality Payment Program (QPP) into one document for its 2019 proposal. This article will summarize the elements of each area that will most affect radiology practices if they are ultimately finalized and become law later this year.
MPFS Provisions
Fee Schedule Pricing
The Medicare fee schedule is compiled by multiplying the Relative Value Units (RVUs) determined for each procedure and a dollar-amount Conversion Factor (CF) for each RVU to arrive at the basic fee for each procedure. CMS annually adjusts RVUs to reflect changes in technology and medical practice techniques, looking for over- or under-valued procedures. More information about the approximately 60 proposed RVU changes will come in a subsequent article.
The CF is adjusted annually in accordance with statutory requirements, including budget neutrality. For 2019 the CF is expected to increase by $0.06, or 0.1667%, to $36.05 per RVU and it will then be further adjusted for geographical differences depending upon practice location. Radiology practices are expected to experience no change in reimbursement as a result of the MPFS adjustments, although nuclear medicine and radiation oncology could see reimbursement decreases of 1% and 2%, respectively.
Appropriate Use Criteria/Clinical Decision Support (AUC/CDS)
This could be the topic of most concern to radiologists for 2019, although the MPFS Proposed Rule does not change expectations much from what was contained in other rulings and reported in our article earlier this year. "Mandatory" use of CDS will begin on January 1, 2020 but without any payment penalty for failure to report the consultation.
The 2019 rule proposes a series of G-codes and modifiers to be used on Medicare claims rather than a unique identifier system that was mentioned in the 2018 MPFS. It also contains a proposal that "clinical staff working under the direction of the ordering professional" may perform the consultation, and that Independent Diagnostic Testing Facilities (IDTF) will be included in those locations that must use AUC/CDS. Ordering professionals who meet certain hardship criteria would not be required to consult AUC, in which cases the radiologist would append an appropriate modifier to indicate the hardship. Hardship circumstances proposed by CMS include:
Insufficient internet access
EHR or CDSM vendor issues
Extreme and uncontrollable circumstances, including natural or manmade disasters
Radiology Assistants
Under current Medicare regulations, a Radiology Assistant (RA) must perform diagnostic tests under the "Personal Supervision" of a physician. The 2019 MPFS proposes to change that requirement to be a less restrictive "Direct" level of supervision.
Personal Supervision means a physician must be in attendance in the room during the performance of the procedure, whereas Direct Supervision means that the physician must be present in the office suite and immediately available to furnish assistance and direction throughout the performance of the procedure, but not necessarily in the room.
Hospital Outpatient Departments (HOPD)
Our recent article reviewed the rules for imaging centers operated as hospital outpatient departments. HOPDs that are not grandfathered (that is, they were not in existence prior to November 2, 2015) are currently paid under the MPFS at a rate equal to 40% of the Hospital Outpatient Prospective Payment System (OPPS) rate, and the 2019 proposed rule does not change that payment level. However, the OPPS fee schedule will be adjusted for 2019 due to the same type of factors as described above for the MPFS.
Evaluation and Management (E&M) Codes
While not as important a topic for radiologists as it is for other physician specialties, CMS is proposing to revise the current five levels of reporting patient office visits into two levels, one for new patients and one for established patients. This proposal would also change the documentation required to support the billing of E&M codes. We covered the use of E&M codes in interventional radiology (IR) in a recent article.
Perhaps more significant to IR than the condensed coding levels is the proposal that would eliminate separate billing of E&M codes when those visits are furnished in conjunction with other procedures, by applying a multiple procedure payment adjustment in those circumstances.
QPP Provisions
Category Values for Final Score
Here is a comparison of the proposed 2019 nominal category weights as compared with those for 2018:
Category
Proposed 2019 Weight
2018 Weight
Quality
45%
50%

Performance Improvement (PI)

(Previously Advancing Care Information)
25%
25%
Improvement Activities (IA)
15%
15%
Cost
15%
10%
The weight of the Quality Category can become 70% if a radiologist is exempted from the Performance Improvement category. The reasons for exemption are proposed to be the same for 2019 as they were in 2018, including the non-patient facing and hospital-based exemptions that commonly apply to radiologists. In addition, the Small Practice Bonus is proposed to be reduced to 3 points from 5 points, but it would be added to the Quality Category score rather than to the Final Score. This could be a benefit to practices that are struggling to maximize their Quality score.
Payment Adjustments in 2021
Medicare payments will be adjusted in 2021 based on performance in reporting year 2019. Payment adjustments are proposed to range from a 7% decrease to a 7% increase, modified by a scaling factor to achieve budget neutrality. For 2018 the range was +/- 5%. The Exceptional Performance bonus threshold is proposed to increase from 70 points to a threshold of 80 points. Just as in 2018, if an Eligible Clinician (EC) is scored on fewer than two performance categories, a Final Score equal to the Performance Threshold (proposed to be 30 points in 2019 vs. 15 points in 2018) will be assigned and the payment adjustment will be 0%.
Performance Category Proposed Changes
Quality
Practices may now submit data using multiple collection types, whereas previously a single collection type had to be selected. The options include Clinical Quality Measures (CQM), Electronic CQM (eCQM), Qualified Clinical Data Registry (QCDR) and Medicare Claims.
Promoting Interoperability (previously ACI)
Certified EHR Technology using the 2014 Edition will no longer be allowed. CEHRT must use the 2015 Edition. A new scoring methodology is proposed such that each measure would be scored based on the EC's performance for that measure based on the submission of a numerator or denominator, or a "yes or no" submission, where applicable. This would eliminate the base, performance, and bonus scoring methodology.
Improvement Activities
The inventory of Improvement Activities is proposed to be modified by the addition of 6 new activities, modification of 5 activities, and removal of 1 activity. None of the proposed activity modifications would impact radiology practices. There would be no bonus available in the Promoting Interoperability category for use of any Improvement Activities.
Cost
Eight (8) episode-based measures are proposed to be added to the list of Cost measures for 2019. The attribution of total per-capita cost and Medicare Spending Per Beneficiary (MSPB) would not be changed under the proposed rule. The case minimum for procedural episodes will be 10, with episodes attributed to each EC who renders a trigger service. The minimum for acute inpatient medical condition episodes will be 20 cases, with episodes attributed to each EC who bills inpatient E&M codes during a trigger hospitalization under a Taxpayer Identification Number (TIN) that renders at least 30% of the inpatient E&M services during that hospitalization.
Facility-Based Scoring
A physician or group practice that bills at least 75% of their Medicare services in a hospital setting (inpatient, outpatient or emergency department) would be eligible for Facility-Based Scoring under the hospital Value-Based Purchasing (VBP) program. This means that their MIPS Quality and Cost scores will be assigned based on the VBP performance of the facility to which they are attributed, while the Promoting Interoperability and Improvement Activities categories would still have to be submitted by the practice. This is an entirely new option proposed for 2019 that was not previously available.
Conclusion
For more information, there is a comprehensive document on the CMS web site that covers the QPP proposed provision, and we will provide additional analysis of the proposed changes that will affect the RVU levels for 2019. The MPFS final rule for will be issued in November, and it is possible that some of the proposals reviewed here will be changed or eliminated from the final rule. Subscribe to this blog to be updated on the latest developments.
Related Articles

A Review of Medicare's Appropriate Use Criteria and Clinical Decision Support Mandate for Radiology Practices


Reviewing the Rules for Imaging Centers Operated as Hospital Outpatient Departments
Coding and Billing Considerations in Interventional Radiology