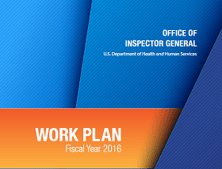 The Office of the Inspector General (OIG) is charged with auditing federal programs under the Department of Health and Human Services to identify waste, fraud and abuse in order to protect the integrity of these programs and the health and welfare of their beneficiaries. The OIG annually issues it's Work Plan for the coming year, outlining the programs and specific areas that it will be investigating. Physician services paid by Medicare receive a major share of attention every year from the OIG. In this article, we will describe some of the areas under review in the 2016 Work Plan that will be of interest to radiologists.
Fraud and Abuse
Under the general description of investigative activities in the Work Plan is the statement that diagnostic radiology and laboratory testing will be scrutinized for healthcare fraud schemes. This can include the solicitation and receipt of kickbacks and illegal referral arrangements between physicians and medical companies, as well as billing for services not rendered, medically unnecessary and misrepresented services, and patient harm. Radiologists can avoid the appearance of billing and medical necessity irregularities by ensuring that their documentation in the medical record is accurate and is synchronized with the coding and billing for the services rendered. If you utilize an outsourced medical billing company, they should be able to educate the radiologists in your practice on this topic.
ICD-10
October 2015 saw the implementation of the ICD-10 code set for diagnosis coding, which was a major undertaking for physicians and their staff. The OIG will be reviewing aspects of the management of this transition by the Medicare system under Parts A and B. In particular, they will be looking at the results of Medicare's decision to allow physicians some flexibility to use codes that are less specific, as long as the codes come from the correct "family" of available codes, during the first 12 months of implementation.
Now that the use of ICD-10 has been underway for some months, radiology practices are advised to review their ICD-10 coding to evaluate which non-specific codes are being used. Once these areas are identified, a review of radiologists' documentation would be one of the first places to look to improve diagnosis coding. A first-rate coding team, whether in-house or through an outside vendor, will make this process a routine part of the work they do to assure the best results for both revenue maximization and compliance.
Radiation Therapy Services
Medicare outpatient payments for Intensity-Modulated Radiation Therapy (IMRT) will be reviewed to determine whether the payments were made in accordance with federal rules and regulations. Prior reviews have identified hospitals that have incorrectly billed for IMRT services when they are performed as part of a developing IMRT plan.
Meaningful Use of Electronic Health Records (MU/EHR)
Incentive payments to eligible professionals and hospitals for adopting EHR systems will be reviewed to identify those providers that should not have received such payments because they did not meet the selected MU criteria. Along with this the OIG will assess Medicare's plans to oversee incentive payments and corrective actions it has taken regarding erroneous incentive payments. One of the core MU objectives is to protect patient information within certified EHR systems by implementing appropriate technical capabilities, and so the OIG will be auditing the security risk analysis of various covered entities that received EHR incentive payments.
Portable X-ray Services
Medicare payments to providers of portable x-ray services will be reviewed to determine whether such payments were correct and were supported by documentation. The OIG will also assess the qualifications of the technologists who performed the services. Prior reviews have found that Medicare may have improperly paid portable x-ray suppliers for return trips to nursing facilities (i.e., multiple trips to a facility in one day).
Comparison of Hospital-based and Freestanding Facilities
Beginning in 2016, Medicare claims are required to contain Place-of-Service (POS) codes that identify whether the services were provided to hospital outpatients in a hospital-based facility or in a freestanding facility. The fee schedule differs for these two types of facilities, and the OIG wants to be sure that the requirements for a facility to bill as hospital-based are met in order to warrant the higher payment associated with them.
Practice Expenses to Provide Imaging Services
The Medicare Physician Fee Schedule (MPFS) is built on several factors, one of which is the cost of providing services. For selected imaging services, the OIG will focus on reviewing these practice expense components, including the equipment utilization rate assumption that goes into the calculation of cost. The results of these reviews will ultimately affect the fee schedule (either upward or downward) for imaging services.
Providers' Compliance with Corporate Integrity Agreements
Physician practices have long been advised to develop, implement and monitor corporate compliance plans. Such plans are used to protect the practice from certain types of allegations of fraud and abuse, and the OIG often negotiates settlements of federal health care program investigations through the use of compliance agreements. The 2016 Work Plan indicates that the OIG will be reviewing its existing agreements for any breach. This is a good reason for radiology practices to review their own compliance programs and update them as necessary.
Summary
While many of these tasks undertaken by the OIG will not be seen directly by physician practices, they serve as a reminder that there is a watchdog aspect to federal programs like Medicare. Business arrangements, documentation and coding should all be reviewed periodically to assure the practice that it is in the best possible position to withstand an investigation should one occur. Radiology practices in particular would be wise to employ staff or outsourced vendors with particular expertise in these issues in order to maximize compliance and avoid potential penalties. Contact HAP now to learn how we can support your practice preparedness.
Related articles:
Documentation Diligence is the Key to Radiology Practice Reimbursement