The Centers for Medicare and Medicaid Services (CMS) announced that Medicare coverage for lung cancer screening using low-dose CT (LDCT) scans would become effective as of February 5, 2015.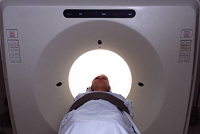 However, according to the American College of Radiology (ACR), we are likely a few months away from publication of the details needed before radiology practices can begin submitting claims to Medicare for these scans. They recommend that "physicians meeting the coverage criteria should hold all claims for low-dose CT lung cancer screening until further reimbursement instructions are released by CMS." The article "College Addresses Lung Cancer Screening Questions" appeared in the February 13th edition of the ACR's Advocacy in Action eNews.
The 43-page decision memo from CMS defines in great detail the criteria that must be met by patients, physicians, and imaging centers in order for the scans to be eligible for reimbursement, but it does not define the coding to be used for claims or the amount that will be paid for the services. Nonetheless, radiology practices and imaging centers can begin lung cancer screening under the new rules and the scans will be covered retroactively to February 5th provided all criteria are met.
Here are the highlights of the Medicare coverage memo's criteria:
Patients must be between 55 and 77 years old, be asymptomatic and show no signs or symptoms of lung cancer, have a smoking history of at least 30-pack years, and be a current smoker or one who has quit smoking within the last 15 years.

The initial screening must be ordered in writing by a qualified health professional following a visit that includes lung cancer screening counseling and shared decision making. Subsequent screening exams must also be ordered in writing following any appropriate visit with a qualified health professional.

The written order must include the patient's date of birth, the number of pack years in the patient's history, the patient's current smoking status (or years since quitting), a statement that the patient is asymptomatic, and the ordering practitioner's NPI number.

The imaging facility must meet certain LDCT equipment requirements that are defined in the CMS memo and use a standardized lung nodule identification, classification and reporting system. It must also make smoking cessation interventions available for current smokers and submit data to a national registry. There is no accreditation or certification required for imaging facilities.

Radiologists must be board certified or board eligible and they must have been involved in the supervision and interpretation of at least 300 chest CT exams in the past three years. They must also have met continuing education requirements in accordance with ACR standards.
One of the requirements for a facility performing LDCT lung screening is that procedure data must be collected and submitted to a qualified national registry, but no registries are yet approved. The ACR has submitted a letter of intent to have its ACR Lung Cancer Screening Registry become approved for this program. In the absence of any approved registries, the ACR recommends that practices "refer to the ACR's data elements document in identifying the type of information to collect." Once approval is obtained, practices can enroll and submit the data they have collected.
Although reimbursement and procedural questions still remain, radiologists can begin to provide this important screening service as soon as they are ready. Along with developing internal processes, collaboration with referring physicians will be needed as they are the ones who will be responsible for providing the necessary elements in their written order. This opens up a marketing opportunity for imaging centers to meet with their referral base and also to begin outreach to patients in the community who will benefit from this screening service.
Watch our blog for further updates to this important Medicare policy as they become available.