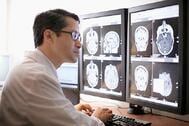 Radiologists concerned with maximizing practice revenue in 2015 would do well to understand the nuances of new coding changes that can impact reimbursements. The majority of coding changes for 2015 involve either bundling two codes into one when those codes are most often reported in combination or the creation of new codes to clarify their usage. The resulting impact on an individual practice's overall payment levels should be minimal but will depend on its actual procedure mix. One major item of note is that Medicare will begin to provide reimbursement for Digital Breast Tomosynthesis (DBT, sometimes referred to as 3D Mammography) beginning in 2015 in the form of a code to be added-on to digital screening and diagnostic mammography services, although reimbursement from commercial payers is not guaranteed.
Diagnostic Radiology
Breast Tomosynthesis (3D Mammography)
CPT Code 77063 (screening digital breast tomosynthesis, bilateral) may be added to the digital screening mammography code (G0202) to indicate DBT services. Similarly, HCPCS Code G0279 (diagnostic digital breast tomosynthesis, unilateral or bilateral) may be added to the digital diagnostic mammogram codes G0206 (unilateral) and G0204 (bilateral). The new add-on codes will be paid at approximately $30.79 for the Professional Component and $25.78 for the Technical Component ($56.57 for global services) in addition to the regular payment for the screening or diagnostic mammogram. These amounts will be adjusted for each geographic region when the actual Medicare fee schedules are published. If your hospital or facility does not currently offer DBT, now is the time to consider investing in the equipment to take advantage of this revenue opportunity. Analyzing your mammography volume by payer and investigating your major payers' policies will allow you to estimate the financial impact of adding DBT services.
By defining DBT using an add-on code, there is no way to code for diagnostic breast tomosynthesis when it is performed separately from a full-field digital mammogram. Also, while Medicare elected not to utilize the newly-created CPT codes 77061 and 77062 (breast tomosynthesis diagnostic, unilateral and bilateral, respectively) for 2015, commercial payers will have the option to do so. Practices may have to use different billing methods for commercial payers than they do for Medicare, and the choice of coding options will certainly differ among the various commercial payers. Each of the major payers should be contacted to understand which codes they expect to use for optimal coverage of DBT. Be sure that your coding staff or outsourced vendor is proactively having these conversations with your payers to prevent delays in processing reimbursements.
Breast Ultrasound
Until now there has been a single CPT code to define breast ultrasound, whether it was performed bilaterally, unilaterally, completely or limited. New codes (76641 and 76642) have been issued to describe unilateral complete and limited examinations, and Medicare has indicated that bilateral studies will be paid at 150% of the unilateral rate when Modifier -50 is applied. According to the American College of Radiology, a complete examination must include all four quadrants of the breast and the retroareolar region; it also includes ultrasound examination of the axilla, if performed. A study that does not meet these criteria is considered to be limited.
The new Breast Ultrasound coding will provide significantly increased global reimbursement from Medicare for bilateral examinations when compared with the previous non-specific code (76645), which will no longer be used. The following table shows the comparative values using the national base-level conversion factor. This code change is particularly beneficial to hospital-based radiologists, as professional component reimbursement for breast ultrasound will see an increase in every scenario.
| | | | | |
| --- | --- | --- | --- | --- |
| CPT Code and Description | Professional Component | Technical Component | Global | Increase (Decrease) |
| 76641, Complete, Unilateral | $36.52 | $71.61 | $108.13 | 8% |
| 76642, Limited, Unilateral | $34.01 | $54.78 | $88.79 | (11%) |
| 76641-50, Complete, Bilateral | $54.78 | $107.41 | $162.19 | 62% |
| 76642-50, Limited, Bilateral | $51.02 | $82.17 | $133.19 | 33% |
| 76645 Non-specific | $27.93 | $71.97 | $99.89 | |
Dual-Energy X-ray Absorptiometry (DXA)
Coding for Vertebral Fracture Assessment (VFA) when done in conjunction with a DXA bone density exam has required the use of two separate codes (77080 and 77082). Beginning in 2015, these components will be combined into a single code (77085) when performed together. The new code will be reimbursed globally at approximately $56.57, or 17% lower than the combined codes previously used. CPT 77086 will be used for VFA when it is performed using DXA but without the bone density exam, and it will be reimbursed at approximately $35.80 globally.
Interventional Radiology
Cryoablation for Bone and Liver Tumors
Two new codes will allow better reporting and reimbursement for percutaneous ablation of bone and liver tumors. Until now the only way to bill for these procedures has been through the use of unlisted codes, which is never the best option. Medicare's reimbursement of the new codes will be $408.12 for the bone tumor code (20983) and $516.59 for the liver tumor code (47383). The existing code for percutaneous radiofrequency ablation therapy (20982) will now include adjacent soft tissue when involved by tumor extension and imaging guidance, with a negligible increase in reimbursement.
Myelography
New bundled codes for myelography will include the lumbar injection that was previously billed using a separate code. Medicare's reimbursement for the bundled codes will be 6 - 7% lower for the professional component when they are performed in the hospital, and 22 – 25% lower for the global fee when done in an imaging center. The new codes are as follows:
62302, Myelogram Cervical

62303, Myelogram Thoracic

62304, Myelogram Lumbosacral

62305, Myelogram of two or more regions
These new codes are for use when the same physician performs both the injection and the radiologic interpretation of the exam. In circumstances where two physicians perform the procedure the separate codes will still be available and should be used.
Vertebroplasty
Three new vertebroplasty and three new vertebral augmentation (kyphoplasty) codes that bundle imaging guidance with the procedure have been issued for 2015. Medicare reimbursement for the new codes will be 24 – 25% lower for vertebroplasty and 20 – 22% lower for kyphoplasty. The new codes are as follows:
22510, Percutaneous Vertebroplasty, cervicothoracic

22511, Percutaneous Vertebroplasty, lumbosacral

22512, add-on for each additional vertebral body in conjunction with the above

22513, Percutaneous Vertebral Augmentation, thoracic

22514, Percutaneous Vertebral Augmentation, lumbar

22515, add-on for each additional vertebral body in conjunction with the above
The old procedure and imaging guidance codes will no longer be available for use after January 1, 2015. The policies and rates described here are for Medicare services. There is no certainty that commercial insurance payers will accept the new codes and follow the decisions made by Medicare. Practices will have to analyze each payer's contract to determine how new codes will be priced, and perhaps negotiate rates for these new codes. Be sure that your staff and vendor partners are prepared for this process in 2015 as it will likely have a significant impact on your radiology practice revenue.