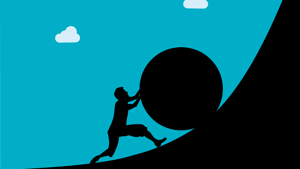 For many radiology practices, the idea of a positive payment adjustment for participation in the Medicare Quality Payment Program (QPP) has been lost. Several factors have combined over the past few years to change the goal for radiology practices – it is now 'penalty avoidance' rather than a reward for reporting quality metrics. As we outlined in our recent review of the Medicare 2024 Physician Fee Schedule Proposed Rule, the QPP requirements for successful participation are going to become even stricter.
The Merit-based Incentive Payment System (MIPS) scores for the 2022 performance year are now available through the QPP Portal. In the 2022 year, the final score for many radiology groups is being negatively impacted by the addition of a Cost Category score. The Cost factor represents 30% of the MIPS Final Score, and it is not directly controllable by the practice in the way that achieving specific results in the Quality or Improvement Activities categories can be controlled.
Cost scoring comes from billing evaluation and management (E/M) services, and evidence suggests that practices using non-physician providers (NPP) might be more greatly affected because NPPs are always considered to be primary care practitioners even while performing radiology services. A practice that thought it had a perfect score of 100 points through reporting Quality and Improvement Activities might find it actually has a lower score due to poor performance in the Cost Category, possibly slipping below the minimum threshold needed to avoid a payment penalty.
Some commenters have calculated that the amount of reimbursement they received for E/M services in 2022 was less than the amount they would lose in 2024 due to a lower reimbursement rate. They have suggested that by reversing the claims for those services and refunding the payment for them, they could reverse the application of the Cost Category on their MIPS score. A similar strategy for avoiding future penalties might include not billing for E/M services in the first place.
Practices that feel they have been negatively impacted by the Cost Category or any other aspect of the MIPS scoring process may request a Targeted Review. The request must be filed within 60 days of the release date, or by October 9, 2023, for the 2022 performance year. Detailed information is available by downloading the MIPS 2022 Targeted Review Guide.
A recent article in Radiology Business highlighted a letter from the American College of Radiology (ACR) sharing the ACR's concerns about the ability of radiologists to excel in MIPS, including "their ineligibility to earn maximum incentive adjustments, despite perfect performance in the program." In addition to application of the Cost Category to radiology practices, there is going to be a higher minimum threshold of 82 points for performance year 2024, and there are a limited number of Quality measures available for radiology. The number of available Quality measures is gradually being eliminated or reduced in value.
The budget-neutral design of the QPP is such that positive adjustments are greater when there are large negative adjustments. As the criteria for obtaining a positive adjustment become increasingly difficult to meet, more radiology practices could fall into the negative adjustment category, allowing non-radiology specialties to be rewarded with a higher positive adjustment.
The maximum upward adjustment for practices with a perfect score in their 2022 performance currently is reported to be 8.25%, including 6% from the Exceptional Performance Bonus and 2.25% from the Base Adjustment. Those figures could change following a final reconciliation after all reviews have been completed. 2022 is the final year the Exceptional Performance Bonus will be available, which will be applied in payment year 2024. This table shows the history of MIPS positive adjustments:
| | | |
| --- | --- | --- |
| Performance Year | Payment Year | Maximum Upward Adjustment |
| 2017 | 2019 | 1.88% |
| 2018 | 2020 | 1.68% |
| 2019 | 2021 | 1.79% |
| 2020 | 2022 | 1.87% |
| 2021 | 2023 | 2.34% |
| 2022 | 2024 | 8.25% |
Chart from McDermott+Consulting, The MIPS Effect: A Surprise Twist in Estimating Medicare Payments For Clinicians Next Year
The 2022 result is a much higher adjustment than it was in the preceding years. Part of the reason could be because there were fewer practices facing a negative adjustment in the earlier years, with the result that positive adjustments were reduced through budget neutrality; it was once far easier to avoid the penalty. Additionally, during the COVID-19 public health emergency, many practices were able to qualify for a hardship exception, further reducing the amount of negative adjustment and therefore limiting the amount of upward adjustment. Another factor in the 2022 performance year could be the effect of the Cost Category on more practices. Cost had been reweighted to 0% during 2020 and 2021 due to the public health emergency.
Organizations such as the American College of Radiology, Radiology Business Management Association, and Medical Group Management Association, as well as other specialty organizations, are interested to learn about practices' experience with the QPP. Practices will have to be more diligent than ever to be sure they avoid negative payment adjustments. Subscribe to this blog to keep abreast of developments in QPP and other areas of Medicare regulation that will affect your practice's reimbursement.
Erin Stephens, CPC, CIRCC is the Sr. Client Manager, Education at Healthcare Administrative Partners.
Related Articles


Medicare Proposed Rule For 2024 Will Not Improve Radiology Reimbursement
Maximize Duplex Doppler Ultrasound Documentation & Reimbursement
You Can Help Improve the Medicare Physician Fee Schedule
Follow HAP on Twitter
Like HAP on Facebook


Copyright © 2023 Healthcare Administrative Partners. All Rights Reserved.