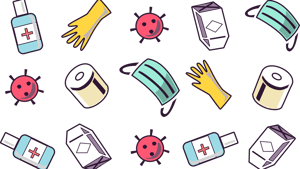 There are many variables to consider in addressing the uncertainties that lie ahead. While we know there is a lot of excellent information available, our hope is that we have been able to curate some relevant guidance that will help your practice thrive again in this period of uncertainty. Areas of focus for your practice should include:
safety policies for staff and patient protection,
physical changes to the office space,
human resources and physician work policies,
patient scheduling,
collaboration with community partners, and
a new direct marketing plan.
All of these areas will be extremely important to maximizing your patient volume moving forward. Our three-part series will cover each of them in detail. In this first article, we will discuss workplace safety policies, changes to your office space, and workflow processes.
Establish Workplace Safety Policies
The workplace we are about to re-enter will not be the same as the one that existed before the pandemic. Set guidelines to ensure that the health and safety of your employees and patients is a priority.
Here are some recommended steps to maximize safety in your practice:
Appoint an office "policy czar" who is responsible for staying informed on daily changes and disseminating this information to leadership and staff. Your policy czar will need to refer regularly to information published by the CDC, your state medical board, and federal and state authorities for guidance on public health and safety precautions. Additionally, it will be critical to stay abreast of industry specific recommendations provided by professional societies such as RBMA, ACR & HBMA.


Conduct a thorough sanitization of your entire workspace so it is safe for your employees to return. It is imperative to have a reliable source of cleaning supplies as shortages continue. Set a policy for cleaning all shared common areas throughout the day and at the end of each day with specific employees assigned to this responsibility daily. Lobby areas, doorknobs, and any other highly-touched surfaces should be cleaned hourly. Create clearly visible signage about your cleaning policies so your patients are aware of the steps you have taken to prevent transmission. Consider providing extra transparency by cleaning within range of patients' visibility.


Establish your sources of supply for acquiring necessary PPE and make sure that you can access surge materials if volume requires it. Set your office policy for PPE usage based on the level of need by job role. It is important to make sure all employees are provided equal and consistent safety conditions to ensure that the practice is not exposed to liability for discriminatory practices.


Establish a policy for patients wearing PPE. At the time an appointment is made and/or confirmed, be sure to let patients know that they will be required to wear a mask in the office. If necessary, and if your supplies allow, provide non-compliant patients with disposable masks upon entry.


Establish a protocol for notifying patients about critical health updates such as a situation where they may have come in contact with an asymptomatic, but now positive, COVID-19 patient. Similarly, provide your patients with instructions to notify your office should a positive test occur post-visit so you can mitigate further exposure and quarantine any staff that had interaction.


Conduct a direct patient screening questionnaire via phone before each patient's visit. Include their reason for visit, symptoms, recent travel history and whether they have come into contact with anyone who has tested positive. As state borders are opened and regulations are relaxed based on geography, the travel section of your questionnaire should be modified. Evaluate this questionnaire frequently based on changes.


Maintain records of all patient/staff contact to allow proper tracing if necessary.


Establish a rapid test for any patients scheduled for an interventional radiology procedure.

Look at Your Physical Office Space
Minor changes that can be made to your physical space in order to greatly reduce risk to patients and your staff include:
Reconfigure reading rooms and radiologists within the reading room to maintain distancing.


Create single-radiologist and single-workstation reading rooms, if feasible.


Radiologists should sterilize shared workstation equipment before and after use; ideally, workstations should be dedicated to a single radiologist with cleaning between shifts.


Phone communications between radiologists and other staff are preferable to in-person communications.


Reevaluate historical policies regarding alternative workplace locations and develop your go-forward strategy regarding radiologists reading remotely.


Consider rearranging workstations to allow employees to social distance appropriately and prevent equipment or workspace sharing that may have been in place previously.


Some employees may be able to maintain work-from-home capabilities in order to limit in-person interaction. Discontinue in-person meetings that can be held virtually.


Consider looking into options for automated check-in to eliminate the time patients are spending in the facility and cut down on face to face interactions.


Waiting areas should be modified to maintain social distancing within your facility. Adjust seating so that patients sit at least six feet or more apart. In some cases, patients could be asked to wait in their car. Remove magazines and toys from the waiting room. Routinely disinfect the waiting room throughout the day as set by your cleaning policy.


Based on your location and the virus spread, you may need to establish a separate waiting area for suspected COVID-positive patients to ensure they are isolated from your general population. Have a protocol in place when working with a suspected or known positive patient.
Evaluate Workflow Processes
Internal workflow processes should be re-evaluated with regard to employee/patient interaction as well as employee/employee interaction, especially in the early days of increased procedure volume. The careful scheduling of employees offers a significant opportunity to impact safety by reducing exposure. Staff can be scheduled to work in teams that alternatively cover weeks to minimize exposures across the section and maintain the workforce. A backup workforce can be established for shifts, particularly in high-exposure areas; healthcare workers may work in teams in which Team A and Team B alternate working for two weeks followed by two weeks out.
You will also need to consider how you "match up" the patient imaging strategy with your internal staffing strategy. The Radiological Society of North America (RSNA) COVID-19 taskforce released a 7-page report that includes specifics regarding patient screening for elective imaging. Outpatients scheduled for imaging or other procedures should be screened at the facility entrance for symptoms including fever, new dry cough, shortness of breath, and sore throat. RSNA also offered the following comments:
Prohibit accompanying visitors.


Symptomatic patients, if not already masked, should be given surgical masks and isolated from other patients while awaiting scanner availability.


Patients should be imaged with portable equipment when possible (e.g., chest x-ray) in an isolation room.


Dedicated CT scanners and interventional suites can be used, ideally with negative pressure, as institutional space and resources allow.
Conclusion

The last few months have been challenging for healthcare providers in general. The pandemic has had a wide reach, impacting not only their safety but also their livelihood. Although we personally are not on the front lines, as an extension of your revenue cycle process we are all in this together. We hope we have provided valuable content as you look to transition your practice into the recovery phase. At Healthcare Administrative Partners, our goal is to be a valued resource to your community. Subscribe to this blog for the next in our series on re-entering the radiology market, and other information that will help your practice maximize its potential.
You can view the references for this article series here.
Rebecca Farrington is the Chief Revenue Officer at Healthcare Administrative Partners.
Recent Articles

Observations on Radiology Practice Volume Throughout the COVID-19 Pandemic

The Path to PPP Loan Forgiveness

Expansion of Federal Funding to Assist Radiology Practices