The stage is set for an interesting year of coding, billing and reimbursement in radiation oncology.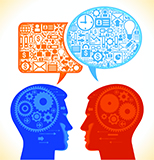 The CPT1 coding structure for radiation oncology services underwent significant revision in order to bundle certain services that are usually reported together and to clarify the meaning of some codes in the context of current clinical practice. In some cases this required the creation of new CPT codes to describe these services, or revision of the descriptions of existing codes in other cases. Medicare's decision not to fully recognize these coding changes creates the potential for two different systems to be in place for 2015, and is sure to cause discrepancies between billing for Medicare and billing for other payers.
Radiation Treatment Delivery
The CPT code panel issued three new codes (77385, 77386 and 77387), revised the definition of four existing codes (77401, 77402, 77407 and 77412), and deleted thirteen radiation therapy treatment delivery codes. Medicare, however, elected not to adopt the new CPT coding structure and instead issued seventeen new HCPCS2 'G-codes' to mirror the description of treatment delivery services that existed under the 2014 CPT code structure. The G-codes generally carry reimbursement that is 1 – 2% higher than the corresponding 2014 CPT code values. The four codes that will ultimately be retained with revised descriptions are valued higher, as follows:
| | | | |
| --- | --- | --- | --- |
| Radiation Treatment Delivery | 2014 Code | 2015 Code | Change in Reimbursement |
| superficial | 77401 | 77401 | +3.51% |
| up to 5 MeV, simple | 77402 | G6003 | +15.79% |
| up to 5 MeV, intermediate | 77407 | G6007 | +1.35% |
| up to 5 MeV, complex | 77412 | G6011 | +14.18% |
Neither the revised descriptions of these four codes as promulgated by the CPT code panel nor the three newly created codes will be recognized in the 2015 Medicare coding structure.
Intensity-Modulated Radiation Therapy (IMRT) and Image-Guided Radiation Therapy (IGRT)
Included in the list of new G-codes adopted by Medicare are two IMRT and three IGRT codes that have been set for deletion from the CPT list. These are:
IMRT Codes
77418 (intensity modulated radiation therapy delivery), and
0073T (compensator-based beam modulation treatment delivery), which have been replaced in 2015 by G6015 and G6016 respectively.
IGRT Codes
76950 (ultrasound guidance),
77421 (stereoscopic x-ray guidance) and
0197T (intra-fraction guidance),
which have been replaced in 2015 by G6001, G6002, and G6017, respectively. The technical component of IGRT services has been bundled into the IMRT codes for 2015, but the professional component can still be billed separately.

Isodose Calculation Planning
Six existing CPT codes have been deleted and will be replaced by five new CPT codes. The new codes for teletherapy and brachytherapy isodose planning will now include Basic Dosimetry Calculation (CPT 77300), which may no longer be billed separately in conjunction with the new codes. The table below compares the 2015 Medicare reimbursement for the new bundled codes with the 2014 reimbursement for the old code plus the separate Basic Dosimetry Calculation. The results are mixed, ranging from a decrease of nearly 13% to an increase of over 38%:
| | | | | |
| --- | --- | --- | --- | --- |
| Description | Current Code | New Code | Global Fee Impact | Professional Component Impact |
| Teletherapy isodose plan; simple | 77305 | 77306 | +13.45% | + 3.60% |
| Teletherapy isodose plan; intermediate | 77310 | No replacement | | |
| Teletherapy isodose plan; complex | 77315 | 77307 | +38.30% | +29.99% |
| Brachytherapy isodose plan; simple | 77326 | 77316 | -12.87% | -11.21% |
| Brachytherapy isodose plan; intermediate | 77327 | 77317 | -10.62% | -10.33% |
| Brachytherapy isodose plan; complex | 77328 | 77318 | + 2.78% | + 5.03% |
The policies and rates described herein are for Medicare services. Commercial payers have the option to adopt the codes as issued by the CPT panel or to adopt the coding structure that Medicare will use. Thus, practices are in the position of having to determine for each of the various commercial payers whether that payer will be recognizing the CPT or HCPCS coding structure. Each payer's contract will have to be analyzed to determine how new codes will be priced, and rates for these new codes might have to be negotiated.
ASTRO, the American Society for Radiation Oncology, is requesting that all commercial payers follow the Medicare format in order to reduce confusion and ease the burden on practices. Claims might be denied or delayed due to CPT/HCPCS code mismatches among the various payers. The problem will be especially noticeable where a commercial payer is secondary to Medicare and receives an automatic cross-over of claims information that does not afford the practice an opportunity to adjust its coding. It is essential for your staff and vendor partners to be prepared for this process in 2015 as it will likely have a significant impact on your radiation oncology practice's revenue.
1
Current Procedural Terminology (CPT) is a copyrighted code set developed and maintained by the American Medical Association.
2 HCPCS stands for Healthcare Common Procedure Coding System and herein refers to codes developed by CMS for payments under the MPFS.