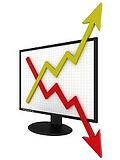 When the dust finally settled, we could see how the 2014 Medicare Physician Fee Schedule (MPFS) would impact radiology reimbursement, and results were mixed. Hospital-based services came out ahead while imaging centers generally took a big hit. Due to the many factors that contribute to the calculation of the final fee schedule, a weighted analysis will help you determine the actual impact on your practice.
The Medicare Economic Index (MEI) had a major effect on the 2014 Medicare fee schedule as Relative Value Units (RVU) were rescaled to more closely mirror the weights assigned in the MEI. For radiology, a decrease in the allowance for Practice Expenses (PE) related to equipment utilization was a major contributor. The decrease in the PE-RVU allowed a counter-balancing increase in Work RVUs since the fee schedule overall has to remain budget-neutral. Services with a high PE-RVU component, such as MRI, CT or ultrasound services performed in imaging centers, will see a payment cut while services with a relatively higher Work RVU component, such as hospital-based radiology, will see payment increases.
Revisions to the Geographic Price Cost Index (GPCI), which adjusts reimbursement rates for regional factors, had a lesser impact. The recalculation of the GPCIs will be phased in over 2014 and 2015 and will affect each geographic region differently.
Finally, the Centers for Medicare and Medicaid Services (CMS) adjusts the RVUs for hundreds of procedures that they consider "misvalued." After CMS publishes its list of potential adjustments and reviews input from specialty societies and other experts, they finalize the final fee schedule, which contains a mixture of up and down revisions.
The Conversion Factor (CF) of $35.8228 per RVU that is used to arrive at the final payment level is 5.3% higher in 2014 than it was in 2013. Congress acted at the last minute to avert application of a provision in the Medicare law that would have caused a 20.1% reduction in the 2014 CF. Note, however, that this higher rate will only be in effect through March 31, 2014 since it is Congress' intent to enact legislation to permanently replace this reduction provision, commonly referred to as the SGR formula, which has become an annual concern.
Offsetting the 5.3% increase in the conversion factor was a 2% reduction in reimbursement for Diagnostic and Interventional Radiology procedures due to the RVU coding and valuation changes. This includes wide swings that will affect practices differently depending on individual practice patterns. Breast biopsy procedures have been bundled into new codes that reduce reimbursement by an average of 38%. The practice expense assumptions related to high-cost equipment such as MRI and CT will result in 18–34% reductions in payment for the technical component of procedures using this equipment, while reimbursement for many professional component services will increase somewhat.
With all of these up and down changes, what is the combined impact on the typical radiology practice? To find out, we conducted a volume-weighted analysis of our clients' expected reimbursement based on the Medicare fee structure currently in place through March 31, 2014. This was modeled on actual 2013 practice data. After adjusting the data to eliminate the geographic (GPCI) factor in Medicare's fee schedule, results revealed a 4.5 – 4.9% increase for professional component billing and 12.8–15.6% decrease for imaging centers using global billing. CMS has increased professional component reimbursement for almost every procedure in 2014, reducing only a few MRI and interventional procedures. This accounts for the very narrow range of results (positive 4.5–4.9%) in the survey. Those practices with a relatively high level of breast biopsy procedures will see a smaller increase because the bundling of those codes has resulted in a 22–45% reduction in professional component reimbursement.
Decreased reimbursement for imaging centers may vary widely (negative 12.8–15.6%) from 2013 depending on mix of procedure volumes. The change in individual procedure reimbursement ranges from an increase of 70% for transvaginal ultrasound (CPT 76830) to a decrease of 65% for ultrasound-guided biopsies (CPT 76942). The impact on imaging centers that offer PET scan services will be mitigated in some regions due to a significant (22%) increase in the technical component for PET scans. Each Medicare intermediary sets the pricing of PET for its region so there is no national standard available.
However, the biggest factor impacting imaging centers' reimbursement is the number of CT and MRI exams performed. Based on a decision to assume a higher rate of utilization for this equipment, CMS dramatically reduced the PE-RVU component, substantially decreasing reimbursement.
You can determine how these changes will affect Medicare reimbursement for your practice by performing a volume-weighted analysis based on your 2013 data. It's important to limit the volume used in the analysis to only those procedures performed for Medicare patients, as other procedures for a younger, non-Medicare population could skew the results and lead to inaccurate conclusions. Some payers other than Medicare may adopt the same bundling methodology, and some payer contracts may be tied to current-year Medicare rates. In these cases, you can expand your analysis to include the appropriate population and payment rates.
The result this year could have been worse, but CMS decided not to implement its proposed cap on imaging center payments based on corresponding services in hospitals. That proposal will likely resurface in future years. Nonetheless, in 2014 imaging centers continue to feel the downward pressure of reimbursement for procedures using high-tech equipment while hospital-based radiologists will fare somewhat better than before.