Overcome your coding challenges. Collect the revenue you deserve.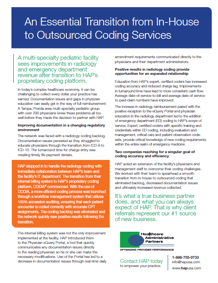 Today's healthcare landscape is complex. Issues with backlogs, turnaround times, and gaps in physician education can easily get in the way of capturing every dollar your practice has earned.
Easy-to-use documentation improvement tools paired with physician education from certified coders can help get your facility back to financial health.
Learn how a Florida pediatric multi-specialty facility experienced an increase in revenue when they made the decision to outsource their coding to Healthcare Administrative Partners.
Download the case study for the full story.